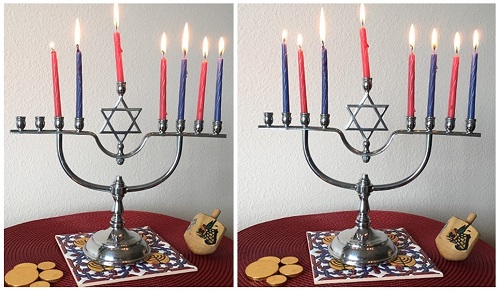 Double Trouble: Hanukkah Miracles #6 and #7.
Double trouble. The parents of seven-month-old twins were worried. They knew that viruses usually pass in three days, but their twin daughters weren't getting better.
On the first day of Hanukkah, they brought the babies to the pediatrician's office. Their oxygen saturation levels were so low that the pediatrician called an ambulance. While both twins needed oxygen, one twin was turning blue. Because there were two of them, the ambulance was running out of oxygen as they entered the gates of Hadassah Hospital Ein Kerem.
Hadassah's Emergency Room team went into quick action to get them hooked up with oxygen. "We put the beds close together so it was easier for the parents," said the ER nurse who admitted them.
A few hours later they were stabilized enough to move to the Charlotte R. Bloomberg Mother and Child Center. The twins had bronchiolitis, a common infection that affects the bronchioles, the tiny airways that lead to the lungs.
Because they had such difficulty breathing, it was judged safer to keep them in the hospital, explained Prof. Shimon Reif, Director of Pediatrics at Hadassah Ein Kerem. "It's never fun to have sick kids," said the mom, but I know I'm in the best hands, and I would be scared at home." She added, "I don't feel that I'm missing Hanukkah because people keep coming by with gifts and music to make the holiday pleasant. Outside it's raining and cold, and I wouldn't go out with the babies. anyway."
The famous players of Jerusalem's Hapoel basketball team were among the visitors. "I was really touched that they came by," the mom related. Also on hand to lighten the day were the members of a volunteer klezmer band, playing Hanukkah tunes.
Mom and dad were taking turns staying in the hospital with the twins because they have two older children at home. They are hoping that relatives will invite the older children to stay with them for the Sabbath so that mom and dad can spend it together in the hospital.
The couple sends huge gratitude to Hadassah's supporters for the loving care at Hadassah Hospital.
By Barbara Sofer
Israel Director of Public Relations
Hadassah, the Women's Zionist Organization of America