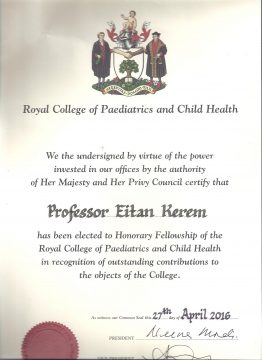 Prof. Eitan Kerem, head of the Division of Pediatrics at the Hadassah Medical Center, Founder of its Center for Children with Chronic Diseases, and world-renowned specialist in cystic fibrosis (CF), has been awarded an Honorary Fellowship from the United Kingdom's Royal College of Pediatrics and Child Health "in recognition of his outstanding contributions to the objectives of the College." Royal College's mission is to transform child health through knowledge, innovation, and expertise.
In 2014, Prof. Kerem received the prestigious European Cystic Fibrosis Society's prize for his outstanding work in CF.
As stated by the Royal College: "Prof. Kerem has advanced child health through his work in partnership with the Palestinian community, through his pioneering work in cystic fibrosis, and his indefatigable labors for the rights of all children. His true excellence lies in his humanitarian contribution, as he has a proven record of building bridges between Israelis and Palestinians, furthering peace through medicine wherever possible, and raising the standards of health care delivery in both communities. He has been active in training Palestinian pediatricians in his cystic fibrosis clinic, and treating Palestinian children.
"Prof. Kerem is a world-known leader in cystic fibrosis research, serving as a principal investigator of many national and international clinical trials and author of key publications in the field. He was the first to demonstrate that gentamicin over-rode premature stop codons. He was also involved in formulating the guidelines that paved the road to the standardization of CF care in Europe and other parts of the world. He is a recipient of the prestigious Ordine Della Stella Della Solidarieta ltaliana Award. The European Cystic Fibrosis Society recently recognized Prof. Kerem for his vast interest in cystic fibrosis across all aspects by honoring him with their 2014 Award, the highest of the Society."
See the actual award text: Award-EK