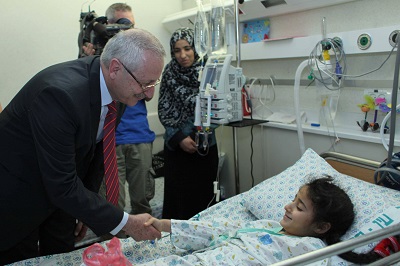 Whether it is offering Palestinian medical residents a specialty fellowship at the Hadassah Medical Center or helping to set up a Cystic Fibrosis Center in Gaza, Hadassah's health professionals are continually reaching out to improve medical care for their Palestinian neighbors.
Initiated on a foundation of humanitarianism, respect, trust, and bilateral sharing, Israeli-Palestinian collaboration is "stronger today than ever," the Hadassah Medical Center reports. Cooperating with hospitals such as Al-Makassed, Augusta Victoria, St. John Eye, and Red Crescent, Hadassah continues to provide sophisticated tertiary medical care to Palestinians from the West Bank, Gaza, and East Jerusalem.
As Dr. Hani Abdeen, the Palestinian Authority's Minister of Health, reported during his May 2013 visit to the Hadassah Medical Center, he would like to further the cooperation between Hadassah and the Palestinian Authority's Ministry of Health. (See photo above).
At any given moment, there are about 60 Palestinian physicians doing their residency at Hadassah or training in various medical subspecialties, including cardiology, dermatology, nephrology, hemato-oncology, ophthalmology, orthopedics, pediatrics, surgery, pathology, and urology. The makeup of the residents is usually decided based on the interests of the doctors applying, the need for particular medical specialties within the Palestinian population, as well as the current demands for residents and fellows in the various medical departments at Hadassah.
Once funding is secured for the training, Hadassah begins reviewing applications that it receives from Palestinian physicians interested in pursuing advanced training at the hospital. When a physician is accepted into a specific program, Hadassah helps him or her to obtain all the necessary approvals, including the required license from the Medical Professional Licensing Division of the Israel Ministry of Health and security clearance to enter Jerusalem on a regular basis.
The training program lasts from two and a half to six years, depending on the field of specialty as well as whether the physician is doing a fellowship or a residency. While residents or fellows, the Palestinian physicians are an integral part of the professional team. They are salaried staff members and, together with their Israeli colleagues, treat all patients that come to Hadassah for medical care.
As they quickly gain the tools to bring the highest level of care to patients in their own communities, the Palestinian physicians also begin to integrate into their home health-care system. In this way, they make a major contribution to the advancement of medicine in the West Bank and Gaza. This includes the development of medical specialties that were previously not available, such as anesthesiology, dermatology, ear-nose-and throat (ENT), endocrinology, gynecology, hematology, neurosurgery, and radiology. One physician who specialized in neurosurgery at Hadassah went on to head the Neurosurgery Department at Beit Jala Hospital; another physician who specialized in neurology is one of the most prominent physicians in the West Bank in his field; the Director of the Hebron Hospital specialized in gynecology at Hadassah; and two neurosurgeons are presently working in other West Bank medical centers. In addition, the head of Dermatological Medicine in the Palestinian Authority, who is also Chair of the Palestinian Society for Dermatology, is doing a two-year special fellowship at Hadassah, which brings him to Jerusalem from Ramallah two days each week.
By the same token, a Palestinian pediatric cardiology resident in his last year at Hadassah has already opened his own clinic in Ramallah. Three days a week he sees patients in his clinic and, for the rest of the week, he continues to train at Hadassah.
Not too long ago, he examined a critically ill infant and concluded that her only chance for survival was to be taken to Hadassah. He immediately presented the case to his colleagues at Hadassah and everyone together decided, without hesitation, that the baby should be brought to Hadassah. A bed was made available in the Pediatric Intensive Care Unit and arrangements quickly set into place to get the baby and her father through the check-point into Jerusalem. The baby underwent an ultrasound examination to see if she could undergo catheterization. When it was determined she could, a catheterization procedure was carried out right away. In the near future, that Palestinian cardiologist should be able to provide this type of treatment in his own clinic. This is Hadassah's ultimate goal: sharing expertise so that Palestinian health professionals can replicate the advanced, specialized care available at Hadassah.
The Cystic Fibrosis (CF) Center in Gaza is a prime example. Previously, Hadassah's Cystic Fibrosis Center treated dozens of young patients from Gaza. When politics prevented these patients from coming to Israel, some traveled to Cairo to undergo treatments there; however, it was a 12-hour trip that soon became too difficult and, ultimately, impossible. The parents of these chronically sick children turned to the international community for help in establishing a CF Center in Gaza. With Hadassah's collaboration, a one-year comprehensive training program was launched for three Palestinian physicians, along with practical training for a nurse, a nutritionist, and a physiotherapist. Read more about the creation of the Cystic Fibrosis Center in Gaza http://v2023.hadassahinternational.org/news/article.asp?id=1736
Whatever the specific medical collaboration, Palestinian residents and fellows have formed warm relationships with their Israeli colleagues and often return after their training to participate in department meetings, present problematic patients, have the opportunity to hear what is going on in the department and, most important, keep abreast of new developments in their field of expertise.  Hadassah's philosophy is that there are no borders when it comes to treating patients; rather, there are bridges to peace.