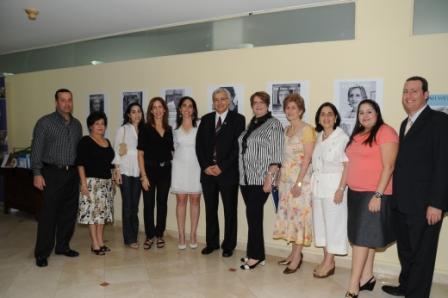 Expanding the Hadassah Medical Center's circle of friendships in Panama and energizing the Hadassah Panama Board of Directors, Director General Prof. Shlomo Mor-Yosef inspired the community with Hadassah's cutting-edge accomplishments and visions for the future of medicine, during a whirlwind four-day September visit in Panama.  
As Hadassah Panama President Margie Mizrachi expressed: "Prof. Mor-Yosef shared with us that special light which emanates from Jerusalem and is transmitted from generation to generation; the light that has guided our people for centuries. That light inspires us to support this unique institution, whose light shines throughout the entire world."
With his warm personality and ability to speak to the Panamanian community in their own language, Prof. Mor-Yosef was able to bring to life Hadassah's mission of "Peace through Medicine," explains Sherry Altura, Hadassah International Major Gifts Chair. Prof. Mor-Yosef, she adds, meaningfully conveyed the need for the Sarah Wetsman Davidson Tower, generating many additional pledges for this new inpatient facility, to be dedicated in 2012.
Prof. Mor-Yosef's visit was the result of an invitation extended to him by the members of the Panamanian Jewish community attending the recent cornerstone dedication ceremony in honor of Rabbi Sion Levy, Chief Rabbi of Panama, in whose honor a million-dollar donation was made to the Sarah Wetsman Davidson Tower.
Hadassah Panama organized two fundraising get-togethers for Prof. Mor-Yosef, luncheons with both leading physicians of the community and members of the Hadassah Panama Board, as well as home visits with supporters and potential supporters. A key highlight was the ceremony at Santo Tomas Hospital when Hadassah Panama presented a new Trauma Unit resuscitation cart to the hospital and Prof. Mor-Yosef spoke about the Hadassah Medical Center's partnership and medical outreach around the world. In October 2007, Santo Tomas opened the first Trauma Unit in Panama, which received the support of Hadassah Panama and the Hadassah Medical Center. Recently, Hadassah medical personnel returned to Panama for two weeks to help Santo Tomas enhance the unit's organizational structure and to contribute through hands-on training of the staff. As Prof. Mor-Yosef explains: "In trauma, every second counts.  There is the golden hour, that crucial first hour where it is determined what medical specialty the patient requires and the patient receives this care immediately. Only then are the results positive."
During the two cocktail parties, the guests viewed a video highlighting the history of Hadassah Panama, the Cornerstone trip to Israel, and the presentation given by Hadassah Panama leaders Sally Abadi and Dr. Joseph Setton at the Hadassah America Convention this summer. Participants then saw a video about the new Tower and heard a presentation by Prof. Mor-Yosef on Hadassah's medical vision, as well as a call to action by Margie Mizrachi.
"You have a unique opportunity to participate as partners in the construction of this new Hadassah Hospital," she said; "an opportunity that does not come by too many times in our lives. Hadassah Hospital is a vital part of the history and future of Israel, and especially Jerusalem. How wonderful to be able to contribute to this mission, inscribing our names and those of our children. In this way, we insure that Hadassah continues at the forefront of medicine and research, as a medical center that radiates its light unto all of humanity."
Prof. Mor-Yosef's visit generated wonderful publicity. The most widely read Panamanian newspaper, La Prensa, interviewed Prof. Mor-Yosef and printed an extensive story about the Hadassah Medical Center in its magazine section.  Entitled "Curing in the Midst of War," the article noted that Prof. Mor-Yosef helped strengthen the collaborative relationship with the Santo Tomas Trauma Unit. It also elaborated on the challenges the Hadassah Medical Center faces in carrying out its mission of building bridges to peace through medicine. The article concludes with a poignant quote from Prof. Mor-Yosef:
"At the end of the day, by working together, we are all winners."