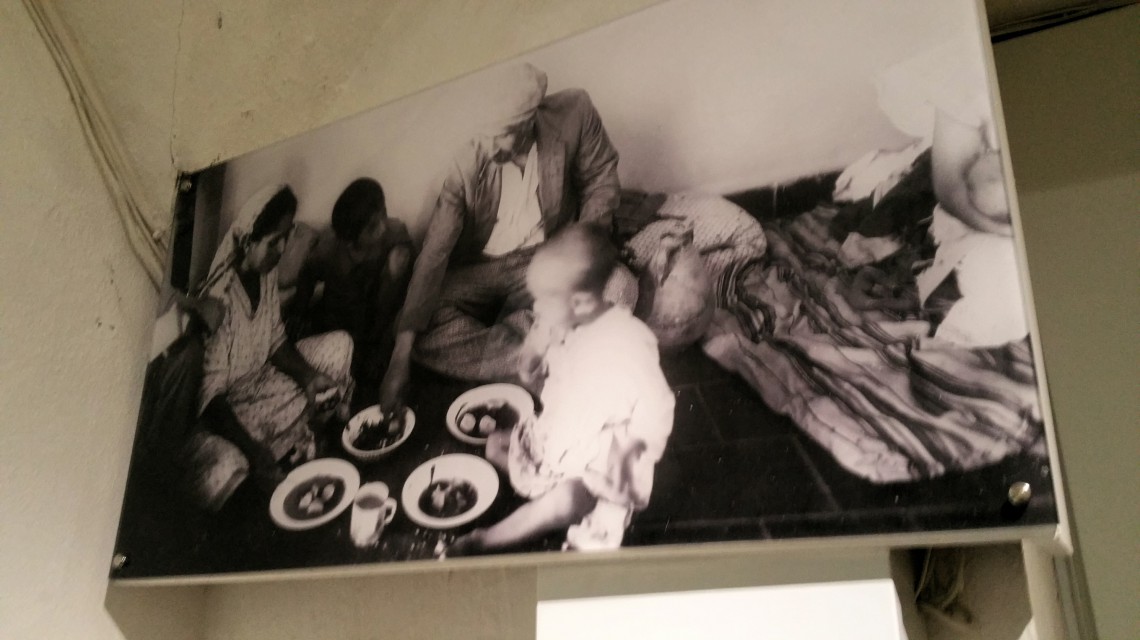 "Today's children have a hard time imagining homes where families ate on the floor," relates Ora Pikel-Zabari, curator of the Isaac Kaplan Old Yishuv Court Museum in Jerusalem's Old City, where a historical exhibit features Hadassah's Tipat Halav well-baby clinic.
The black and white photo at the entrance to the museum is from Hadassah's Old City Tipat Halav Collection, documenting life in the 1920's. It was at the well-baby clinics that pasteurized milk was distributed to the mothers of the city, bringing a revolutionary upgrade to mother and child health and nutrition. The Museum, located in the Jewish Quarter of the Old City, also featured an exhibit of the early days of Hadassah's Henrietta Szold School of Nursing, Israel's first post-high school education for young women. "We loved the photo of Henrietta Szold, our heroine," said Pikel-Zabari. "The woman featured in the photo," she notes, "is prominent in many of the early clinic photos. I think that a Hadassah nurse went home with her to see how the family was coping. We have the photographic records."
"Four out of five children did not live to see their first birthday before Tipat Halav," explains Pikel-Zabari. "The causes behind this shocking statistic were poor hygienic conditions due to bathing only once a week, polluted water pits, early marriages, and a shortage of medications." The arrival of the first two Hadassah nurses in 1913 created a revolution, she adds. "Living in a small house among the poor near Mea She'arim, they began directing resources to care for mothers and their newborns. Focus was on pregnant women who were reluctant to go to physicians for help and guidance. They feared the evil eye, believed rumored horror stories about physicians, and rejected weighing infants because they believed that the good cannot be measured."
Hadassah nurses overcame their superstitions and changed the demographic history of the city.
The Tipat Halav ("drop of milk") project was financially supported by Hadassah Donor Nathan Strauss, whose own son had died after drinking contaminated milk in New York City. Strauss is well known in the United States for his department stories, Abraham and Strauss and Macy's. His beloved brother and business partner, Isadore, as well as his wife, drowned on the Titanic.
A catalogue called A Drop of Milk has been published in Hebrew and will also soon be published in English.