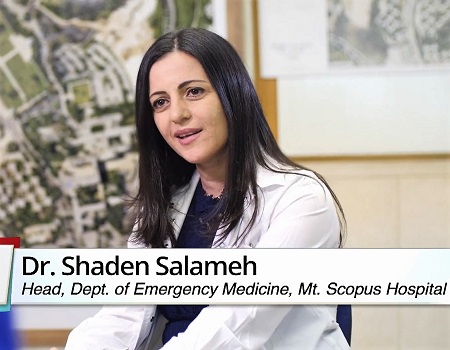 Describing her pioneering role as "a great responsibility with a lot of pride," Dr. Shaden Salameh is the first Arab female physician to head up a hospital emergency room in Israel.
As director of the Hadassah Hospital Mount Scopus Emergency Medicine Department, Dr. Salameh explains that the greater the challenge, the more motivated she is. As the mother of three young children under six, and married to a physician, she attributes part of her ability to juggle her demanding life to the ability of women to multitask.
Throughout her journey to become a physician, many people told her she would not be able to do it. But, as she says, she views obstacles as opportunities.
Hear more from Dr. Salameh about her journey to become a doctor, how she juggles career and family, her role model, and the values she believes make a great leader. Special thanks for the video to The Media Line Ltd.
Read more about Dr. Salameh in The Jerusalem Post.
More videos from the Hadassah 99th National Convention you can find here.