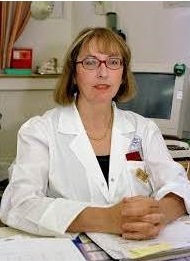 Among the innovative explorations in cancer treatment at the Hadassah Medical Center's Sharett Institute of Oncology are a vaccine which boosts a patient's immune system response to battle recurrence of cancer; identifying tailored therapies for patients based on their genetic background; determining why only some mothers and some daughters who carry the BRCA gene get breast cancer and at different stages of their lives; and how to best support Holocaust survivors who now face cancer.
Prof. Tamar Peretz, Director of Sharett, shared the work of the institute in a presentation at Hadassah Headquarters in New York City at the end of April. "Hadassah is my second home," Prof. Peretz commented, noting that aside from a fellowship at Memorial Sloan-Kettering Cancer Center in New York, she has been at Hadassah since 1973, when she began medical school there. "Hadassah is the best hospital in the Middle East," she says. "It is the spirit of the people who work at Hadassah that gives Hadassah its capabilities and special qualities."
Prof. Peretz notes that today we can cure many people who could not be cured when she started in oncology. At the same time, she believes that preventing the disease is the best way to deal with cancer, although she acknowledges that prevention is a challenge. The fact that it does not carry the same glory as curing a patient of cancer, she says, translates into less money and enthusiasm for prevention.
Hadassah's Sharett Institute, Prof. Peretz relates, has five physical units: inpatient care; outpatient day care; outpatient clinic; radiation oncology; and research. What is unique at Hadassah, Prof. Peretz remarks, is that the "research unit is within the oncology department," facilitating the lab-to-bedside approach.
Hadassah's research program to develop a vaccine to battle cancer, which began about eight years ago with melanoma, has now been expanded to include protocols for breast, gastrointestinal, and lung cancers. The concept is to take cancer cells from the patient's own body, irradiate them, and create a vaccine, which is then injected into the patient. Once the cells have been irradiated, Prof. Peretz explains, they no longer cause cancer; instead, the idea is for them to trigger an immune reaction within the patient to fight any recurrence of cancer.
Hadassah has also done extensive research with the BRCA gene mutation that causes breast cancer, particularly in women of Ashkenazi Jewish background. We have discovered, she reports, that sometimes although both a mother and her daughter carry the mutation, the mother does not get cancer, but the daughter does. Sometimes, they both get cancer, but at different stages of their lives. Research seems to indicate that when the woman takes hormones at an early age, this increases her risk of developing breast cancer.
It was Hadassah that discovered a 12 percent greater frequency of the BRCA mutation among Ashkenazi Jewish women. In addition, Hadassah found a different mutation in the BRCA gene in Yemenite women. Current Hadassah research is focusing on mutations in the Georgian Jewish population and the Arab populations.
Prof. Peretz explains that for the most part, organ-oriented multidisciplinary teams (lung, breast, for example) make decisions about patient treatments. In addition, there is a psycho-oncology team, which helps patients with the emotional aspects of having cancer, as well as a genetic oncology team, which tailors therapy for individual patients based on their genetic profiles.
Prof. Peretz relates that when patients receive emotional support, they are more inclined to come to the Institute for their chemotherapy appointments and adhere to the treatment regimen. By the same token, the Hadassah team has found that while many patients benefit from group therapy, Holocaust survivors are uncomfortable with the concept; therefore, Hadassah decided to develop a special program of individual emotional support for them.