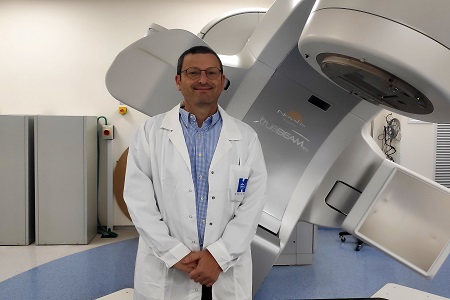 Prof. Aron Popovtzer, former deputy head of the oncology institute at Israel's Rabin Medical Center in Petah Tikva, has been appointed the new director of the Hadassah Medical Organization's Sharett Institute of Oncology. He succeeds Prof. Tamar Peretz, who led Sharett for 26 years and was awarded the Worthy Citizen of Jerusalem Prize for 2020.
"We warmly welcome Prof. Popovtzer to Hadassah's ranks," Director-General Prof. Ze'ev Rotstein said. "We wish him success in this challenging role. We in management will, of course, give him all the backing that's required to ensure that the oncology institute flourishes for the benefit of our patients."
A graduate of the Hadassah­­–Hebrew University School of Medicine, Prof. Popovtzer initially specialized in ear, nose, and throat (ENT). He then went into oncology and radiotherapy, pursuing a further specialization in head and neck cancer at the University of Michigan in Ann Arbor. From Michigan, Prof. Popovtzer moved to Beth Israel Medical Center in New York to gain experience in brachytherapy, which involves treating cancer by inserting radioactive implants directly into cancerous tissue.
During the last five years as deputy head of the oncology institute at Rabin Medical Center, Prof. Popovtzer was involved in both treatment and research. He has published some 75 articles.
The Sharett Institute treats more than 3,500 new patients each year. Along with standard cancer treatment, its physician/researchers develop experimental and advanced treatment approaches and participate in international clinical trials.