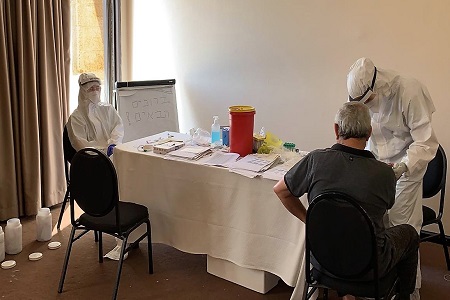 The Hadassah Medical Organization's groundbreaking COVID-19 protocol requiring that every health care worker be tested for COVID-19 every five days has been adopted by the Israeli Air Force for its essential personnel, reports Hadassah Director-General Prof. Zeev Rotstein.
Recent testing revealed that all of the Air Force's key service people are coronavirus-free, so no one has to undergo quarantine. Likewise, the Reuth Rehabilitation Hospital in Tel Aviv recently replicated the Hadassah protocol.
Taking a leadership role in finding a treatment for COVID-19, Hadassah scientists are working to create an effective serum to treat severely ill hospitalized COVID-19 patients on respirators and in medically induced comas. The serum will contain the antibodies of patients who have recovered from the coronavirus.
On April 16, Hadassah doctors were dispatched to the Dan Hotel in Jerusalem to test recovering COVID-19 patients and to collect blood samples from them to measure their antibody levels.
"Those convalescing were very happy to have the opportunity to help others who are seriously ill with the coronavirus," notes Prof. Rotstein. "They're volunteering to give samples in the hope that they can help."
All 60 of the convalescing patients tested negative for COVID-19, Prof. Rotstein reports. In theory, he explains, they will be able to donate plasma in a week or two. Their blood samples have been sent to a Hadassah laboratory for antibody analysis.
"Hadassah is not seeking glory," comments Prof. Rotstein, "just simply to save lives—quickly."