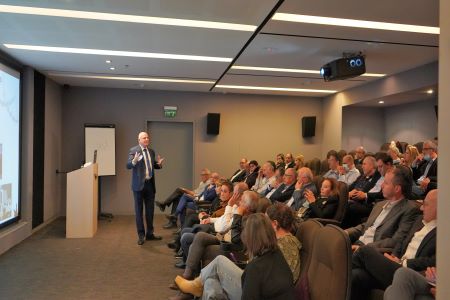 The Hadassah International Israel Board of Trustees met in Tel Aviv recently with representatives from the Hadassah Medical Organization (HMO) Board and Senior Management, the Hadassah International Team in Israel, donors and special guests, to hear the Hadassah vision for the future of Medical Care clearly articulated.
At the reception hosted at the Heseg Foundation's beautiful venue on Rothschild Boulevard, guests enjoyed meeting friends and colleagues after too many "online events". Blended into the crowd was the world-famous Mentalist Marom Mor, who managed to spice up the atmosphere, and leave each "victim" amazed and smiling.
The guests then convened for the main program of the evening. Dalia Itzik, chair of the HMO board, greeted and addressed the room, thanking the many stakeholders for their ongoing support. She sent a special message of gratitude and appreciation to the leadership of Hadassah, The Women's Zionist Organization of America (HWZOA) who were not able to attend the event due to current travel limitations. Dalia brought the group up to date on the current challenges facing HMO, however, most of her presentation focused on the opportunities provided by the beginning of a new era and a strong partnership created by all stakeholders joining forces and working together.
Jorge Diener, executive director of Hadassah International, who had just returned from an extended visit to South America, shared his impressions of the global impact Hadassah is making way beyond the borders of Israel, and how privileged we are to be part of the Hadassah journey in this challenging era.
The main focus of the evening was "The Hadassah vision of medical care" presented by the HMO acting Director-General, Professor Yoram Weiss. Professor Weiss discussed the future of medical care as seen by Hadassah, and emphasized the areas where HMO is leading the way globally with the use of transformative and revolutionary technologies, many of them developed by Hadassah in Jerusalem.
He concluded by inviting the guests to participate in our vision and take the opportunity to play an active role in enabling its execution, thereby impacting the way we treat and heal patients in Israel and far beyond.