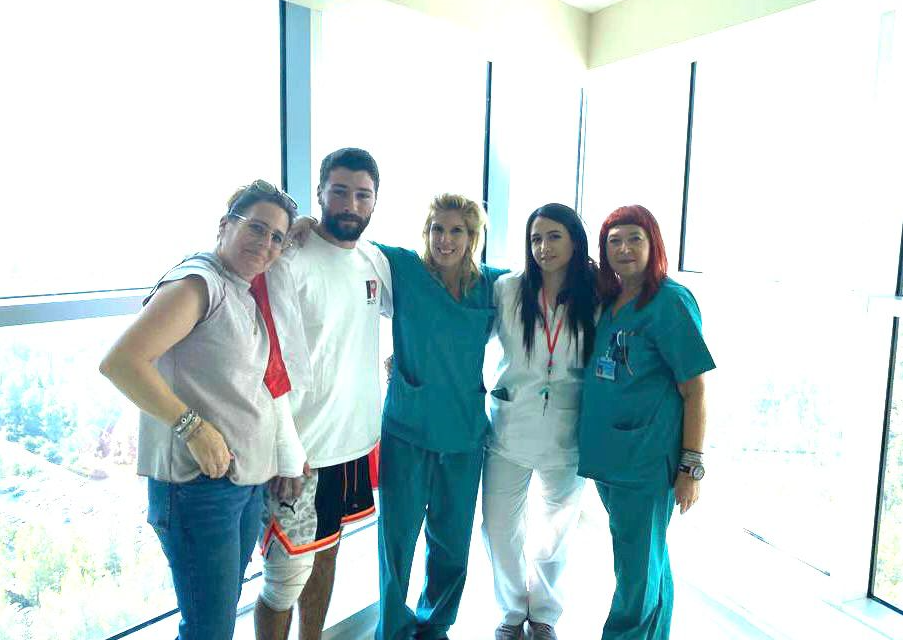 The staff of the Vascular Surgery Department at Hadassah Ein Kerem said goodbye to Hagai, an IDF soldier from the Nahal Brigade who was shot in the arm by gunfire at Kerem Shalom during the first days of the war and presented him with the Hadassah flag.
Upon his evacuation from the south, Hagai underwent surgery at Hadassah by a team of vascular surgery experts and later underwent additional surgeries by orthopedists and skin grafts by a team of plastic surgery specialists.
Recently, a few weeks after his evacuation to Hadassah, at the moment of farewell, the nurses in the department presented him with the Hadassah flag on which there was a dedication: "Our hero Hagai, we wish you a speedy recovery and salute you. From the Vascular Surgery Team, Hadassah Ein Kerem."
Hagai and his mother, Oriana, told the staff about the significant appreciation of the entire family to everyone who cared for him and thanked them for their dedicated and attentive care at the hospital. "Hagai lay there for seven hours until the evacuation, but when the helicopter came to evacuate him to Hadassah into the hands of this amazing team, we managed to breathe a sigh of relief," says Oriana.
And Hagai, a moment before leaving the hospital, wanted to thank everyone, but especially his surgeon.
"The team here has done an amazing job from day one. It is important for me to say a special and personal thank you to Dr. Ron Carmeli, Director of the Vascular Surgery Department here at Hadassah; he is a special person; you can feel the warm spot in his heart for soldiers. I will never forget that just before I went into surgery, he let me call my mother from his private phone and talk to her," Hagai adds excitedly. "You saved my hand; I don't know how to thank you," he said, giving him a final hug.
"Hagai is a great guy; he bravely underwent a series of surgeries led by the vascular surgery department in cooperation with the orthopedic and plastic surgery departments. He was even treated in a pressure chamber and will now recover and rehabilitate himself with the same determination," concludes Dr. Carmeli.

Translated from Maariv post: https://www.maariv.co.il/news/health/Article-1050417