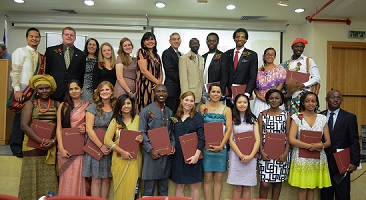 Keynoting the colorful 39th graduation ceremony of the International Master of Public Health (IMPH) program of the Hadassah-Hebrew University's Braun School of Public Health and Community Medicine was 1999 IMPH graduate, Dr. Anna Marzec-Boguslawska, Director of The National AIDS Center, Warsaw, Poland. Her topic was: "Bringing it All Together: Building on the IMPH experience for effective responses to public health threats in an ever-changing world."
The comprehensive multidisciplinary 12-month IMPH experience prepares graduates to face some of the world's toughest health challenges in their home countries, to take up key leadership positions, and to educate others in enhancing public health. Since its inception in 1961, the IMPH degree has been awarded to over 800 graduates from 90 low-income countries in Africa, Asia, Latin America, Eastern Europe, as well as developed countries of North America and Western Europe.
Last year's class of 21 graduates from 17 countries drew students from Nigeria, China, South Sudan, the Philippines, and Haiti, to name just a few. Its graduates will be returning to deal with Ebola, polio, and HIV/AIDS, as well as ongoing challenges, such as maternal and child health and nutrition.
In addition to gaining the broad skills needed to work in public health, each student has his or her own area of interest. Dr. Andrew Bucu of the Philippines, for example, is concerned with disaster relief; Dr. Kandyang Jansuk of South Sudan runs a radio program on public health; and Juliet Wanijiru Maina of Kenya works in a displaced persons camp. Whatever their specializations, they return home as informal ambassadors for Israel and Hadassah.