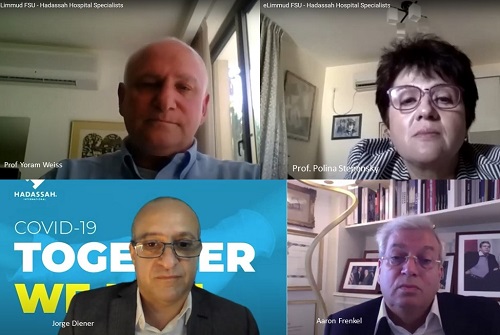 Earlier this week, in the first webinar for Limmud FSU Russian speaking activists around the world, experts from Jerusalem's Hadassah Hospital discussed their successful approach to treating corona virus patients while maintaining the ability of the hospital to continue to treat others. Professor Yoram Weiss, director of the Ein Kerem hospital campus, noted with pride, in a Zoom conversation arranged by Limmud FSU International, an organization that mounts peer-led gatherings of Jewish learning that specifically reach out to Russian-speaking Jews around the world, that not a single member of the hospital staff became ill, and that the hospital continued to receive patients with other medical issues.
The question and answer session, that was hosted by Limmud FSU president, Aaron G. Frenkel, is part of a series of e-learning opportunities on Jewish, general – and coronavirus – topics that are being regularly held as part of Limmud FSU's online activities which seek to provide learning and community engagement opportunities during the global lockdown. The e-Limmud FSU project was initiated by Limmud FSU founder Chaim Chesler and produced by Limmud FSU Public Affairs director Natasha Chechik, and the latest session attracted an audience – and questions – from all around the globe – Australia, US, Russia, Israel, Argentina, Ukraine, Canada, Belarus and many more.
"I am not a prophet," said Weiss, when asked whether social interaction in the world has changed forever and whether the corona virus may disappear, but stressed that as there is currently no medication to stop the virus, though there may be some that attenuate it, social distancing remains the most effective preventive measure. "If you are sick, stay at home," he strongly advised; "think of your peers. There will not be a cure in the near future."
When asked by Frenkel how the hospital had coped with caring for patients ill with something so easily transferred from person to person while continuing to function as a major hospital, Weiss noted that worldwide, people have paid a high price for neglecting chronic or acute diseases out of fear of approaching a hospital, while literature has shown how important it is to send the message that patients requiring care can be received and treated safely. Hadassah Ein Kerem, by creating strict physical separation between coronavirus patients and other patients, very quickly and effectively addressed this challenge, he noted, though it was a challenge that required the involvement of all branches of the hospital management team.
A strategic-tactical management team with representatives from all key hospital stakeholders met twice daily; a BI system provided minute by minute information on the coronavirus patients in the hospital so as to ensure that the necessary infrastructure, manpower and services were available, while data from online multiple information systems on the situation of coronavirus patients were accessible to medical staff on a special handheld device that enabled them to monitor the health of these patients. These devices, noted Weiss, provided their own challenge in protecting confidential patient information. The physical health of the staff was carefully monitored, though it was no less important to care for their mental health and morale, by sending out the message that the hospital management was available to discuss any concerns and by providing constant support to the front-line care givers.
Similarly, it was critical to ensure that coronavirus patients and their families could be in contact with each other, using high-tech, and that from time to time, the patients, who were strictly segregated from the rest of the hospital and from the medical staff, saw a human face close-up in order to raise their spirits. The hospital developed its own hand sanitizer, which is being used throughout the country, while Weiss noted with particular pride that the hospital staff, made up of Jews and Arabs, worked harmoniously together, and that this was covered by an article in The Washington Post.
Beyond caring for people with the coronavirus, Hadassah hospital is playing a lead role in collecting hyper gamma globulin through blood donations from people who have recovered from the virus, in order to treat those most seriously ill.
Discussing research on COVID-19 in more detail, Professor Polina Stepensky, chair of the Department of Bone Marrow Transplantation and Cancer Immunotherapy at Hadassah Ein Kerem, noted the degree to which medical science is still learning about the virus. "We don't know how long it stays in the body, we suspect it is so aggressive partly because there are no antibodies in the human body to attack it, and this in itself makes it more difficult for doctors to treat it." She also cautioned that there is likely to be a second wave, that neither Israel nor other countries in the world have yet achieved herd immunity, and that moreover, science does not yet know how long immunity from the virus may last. "There have already been several breaking news stories that scientific breakthroughs have been achieved, but none of them have been shown to be real," she said.
Both speakers addressed the different levels of mortality and acutely ill patients in different countries, noting that because Israel introduced social isolation relatively quickly, and the hospital were comparatively well prepared, the number of deaths, of patients who needed to be on respirators – and the number of hospital staff who were themselves infected – were lower than elsewhere. This is not, stressed Prof. Weiss, grading hospitals; "in some countries and in some cities, the medical system was simply overwhelmed." In addition, both professors noted, there may be different immune systems in different sectors of the population, and that is why some sectors are more vulnerable than others, and furthermore, there may be a genetic preponderance among certain groups.
Jorge Diener, associate director of Hadassah International, noted that while Hadassah hospital had itself arranged some 80 webinars on the topic, the Limmud FSU gathering was their first for a Russian-speaking audience. But it was not their first outreach to the Russian-speaking world. "From an early stage," Dienar explained, "Hadassah realized that we could do something to help combat the virus outside Israel. So we created a manual of all the protocols we used: running a hospital under these conditions, patient care, staff care, treating non corona patients – and being able to tell the difference: for example, how should a hospital treat a woman coming in to give birth during the pandemic? This manual has been translated into English, Spanish, and Russian, and is being distributed to health officials and hospital directors from around the world."
"The manual is," said Frenkel in concluding the session, "an act of Tikkun Olam, of outreach to and a helping hand for the wider world."
See more of the Webinar here.