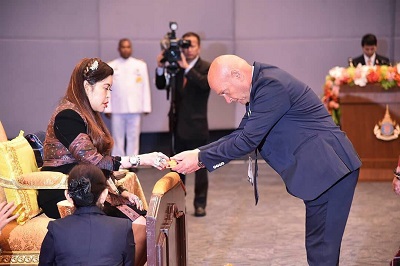 Prof. Eyal Mishani, head of Research and Development at the Hadassah Medical Center and a professor of radiology and molecular imaging, was invited to present at the academic medical conference in Bangkok, Thailand, as part of a 60th birthday celebration for Princess Chulabhorn Walailak, a professor of biochemistry.
Prof. Mishani, a visiting professor at Chulabhorn Hospital and its affiliated Research Institute (named for the princess who initiated their formation), was the only Israeli invited to this state celebration, which was attended by dignitaries from around the world. He spoke at the conference about new, sophisticated imaging methods in the diagnosis of lung and colorectal cancers, one of his areas of expertise.
Joint research is underway between Hadassah and Chulabhorn on lung imaging using PET/CT scanning, an advanced nuclear imaging technique that combines positron emission tomography (PET) and computed tomography (CT) into one machine. A PET/CT scan reveals information about both the structure and function of cells and tissues in the body during a single imaging session.