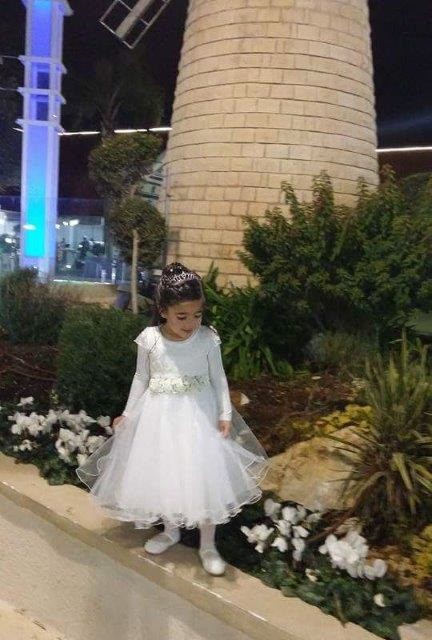 On  October 23, Tahel Sofer, a pretty three year old with huge brown eyes, was sitting in her carseat, all dressed for Shabbat in a pink party dress. Her long dark hair was pulled around the top of her head "like a princess." Sitting next to her in the back seat of the Ford Fous were her brothers Matan and  and Tair. Their father Uirel Sofer was driving and their mother Sigal was in the fron passenger seat. Two terrorists threw  Molotov cocktails at their car. One broke the back window and  landed in Tahel's seat. Uriel and Sigal couldn't stop the car and tried to bat out the flames because that would make them a better target for the terrorists.  "What a horror to see your child on fire—her dress, her hair, her skin," said Sigal, who had been attacked by terrorists herself 21 years earlier. "We were also afraid that the car would blow up."
When they finally could stop, an ambulance took the family to Hadassah Ein Kerem, where they were all examined and cared for. in the Swartz Center for Emergency Medicine. Tahel was injured the worst, hospitalized for three weeks in the Bloomberg Mother and Child Center. Hadassah plastic surgeons took care of her burns.
Last week, the family celebrated a wedding and our sweet Tahel was looking good!
For the previous article which appeared in December 2015, please click here