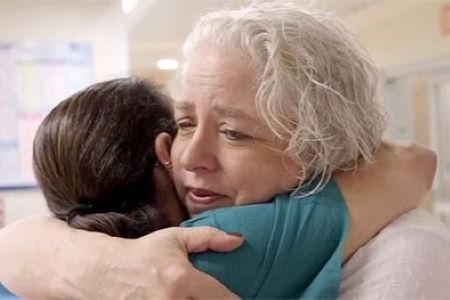 Beth Spack didn't know she was having a heart attack.
That day, she went to her job as a senior Israel travel expert, working to "make people's dreams come true." When she experienced pain in her abdomen, she brushed it off and took Tums. It wasn't until the pain returned in the evening that she suspected something more serious was going on. It was. What she thought was indigestion was actually a 99% blockage of a main artery.
"A heart situation doesn't present itself for women as it does in the movies," said Beth. "For women, it presents very, very differently."
In an ambulance on her way to Hadassah Hospital Ein Kerem, Beth experienced one of the hospital's many new medical innovations for heart care — her EKG was sent directly from the ambulance to the hospital before her arrival. At Hadassah Ein Kerem, she was met by Dr. Gabby Elbaz-Greener, Hadassah's senior catheterization specialist and head of the Structural Heart Intervention Program. In the cath lab, the blockage was opened through the arm with local anesthesia quickly and successfully. Beth was even able to attend her niece's wedding shortly after the incident.
Beth's gratitude is twofold — for the donations to Hadassah that allowed for the amazing care she received and for Hadassah saving Dr. Elbaz-Greener's life nearly 30 years earlier so that she "could be here to save me." The doctor's own life had been saved when she was seriously injured in a terror attack in Jerusalem, undergoing a 10-hour surgery to repair a cut in her carotid artery.
Watch Beth sharing her story in this powerful video.