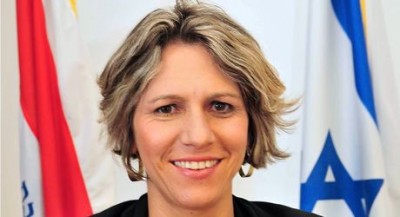 "Medicine is a bridge to peace," is how a senior Israeli doctor and hospital executive summarized the thinking behind Hadassah Medical Centre's outreach to Palestinians in need of high-level medical care.
Dr Osnat Levtzion-Korach, director-general of the Hadassah-Mount Scopus facility in Jerusalem, briefed doctors, Jewish community leaders and Hadassah Australia on the centre's latest developments during her visit to Australia.
She updated Hadassah Australia on Project Rozana, the medical aid initiative named after Rozana Ghannam, a four-year-old Palestinian girl who was successfully treated in 2012 at Hadassah Hospital after falling from a ninth-floor balcony at her home near Ramallah.
The project uses funds raised by Hadassah Australia to help the Hadassah Medical Centre provide medical treatment for Palestinians.
Hadassah also coordinates with the Palestinian Authority so that patients who require regular treatment can receive this closer to home, without the need to visit Israeli hospitals, said Levtzion Korach. Additionally, a training program for Palestinian physicians and nurses reduces the need for Palestinians to cross the Green Line for medical treatment.
"The aim is to help them build their own infrastructure. For example, in the field of treating cystic fibrosis, there's a centre in Gaza established by Dr Eitan Kerem [of Hadassah Medical Centre] who has previously visited Australia," she said.
Bone-marrow patients come to Hadassah from the Palestinian Territories for treatment and child psychiatrists at Hadassah treat post-traumatic stress disorders, she said. "Another area in which we treat a lot of Palestinians is trauma after road accidents."
Levtzion-Korach said the growing volume of Palestinians being treated by Hadassah has helped break down stereotypes in the West Bank and Gaza about Jews and Israelis.
"Someone said to me 'I thought all the Jews and the Israelis were killers but now you're part of me and part of my family'. We believe these patients and their families are Israel's ambassadors," she told The AJN from Jerusalem.
Levtzion-Korach outlined Hadassah's Art-Joy-Love project in Ethiopia, designed to assist orphans with HIV/AIDS. Hadassah's health professionals travelled to Ethiopia to organize an art exhibition, promoting the creative work of talented teenagers from orphanages.
Levtzion-Korach, a mother of four who became Hadassah-Mount Scopus director-general last year, knew early in life she wanted to be in the medical profession and, as a medical student in Jerusalem, she took time to work as a nurse on Magen David Adom ambulances.
She was the keynote speaker at Hadassah Australia's annual gala dinner at the Grand Hyatt Melbourne on October 15 and also met with communal leaders in Sydney.
The original article appeared in The Australian Jewish News on October 11, 2013