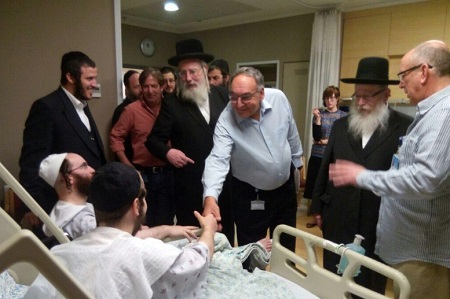 On April 20, 2016, Israel's Minister of Health, Yaakov Litzman, (second from right in photo) visited the four victims of the Egged Bus Terrorist attack who are still being treated at Hadassah.
He also visited the victims of the Brussel's Airport terrorist attack who remain at Hadassah.
To see the full story, see http://www.theyeshivaworld.com/news/headlines-breaking-stories/410571/photos-health-minister-litzman-visits-terror-victims-in-hadassah-hospital.html
Photo above: Left to right: Prof. Meir Liebergall, Head of Orthopedic Trauma and Orthopedic Surgery at Hadassah; Health Minister Yaacov Litzman; Prof.  Zeev Rotstein, Director  General of Hadassah Medical Center; MK  Yisrael Eichler, and the Brussel's Terrorist attack victims.