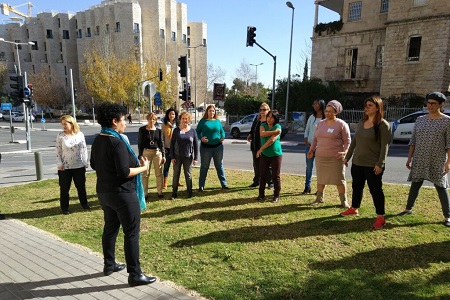 It's only recently that medical practitioners have learned how women guiding other women can improve the heart health of an entire nation, author Wendy Elliman points out in the January/February issue of Hadassah Magazine. Much of the credit in Israel goes to the Linda Joy Pollin Cardiovascular Wellness Center for Women at Hadassah Hospital Ein Kerem.
The Pollin Center, an outpatient clinic for women with heart disease or risks of contracting it, is also a source of numerous community outreach programs that teach women how to maintain a heart-healthy lifestyle. In addition, it's a female-focused research center that examines the distinctive ways women experience heart disease and the factors that put them at risk. Its community projects tap Arab and ultra-Orthodox women in particular because they are most at risk for heart disease. The Center's programs also reach women in their workplaces.
As a result, participants have lost weight, added exercise to their lives, and begun cooking more nutritious meals for their families and serving their children healthier snacks.
Nisreen Salaymeh Shehada, a 49-year-old East Jerusalem mother of six, lost 30 of her 207 pounds. She is working on the next 30, as well as guiding others in her community toward heart-healthy behavior. Hagit Oster, age 58, an administrator in the Minister of Justice's Law Enforcement and Collection System Authority, attended the Pollin Center's Heart Health in the Workplace program and shared what she learned with the 1,100 employees in the authority's 26 branches.
"Women tend to nurture family at the expense of self," comments Pollin Center Director Dr. Donna Zwas. Haredi Jerusalemite Esti Kraus, after taking a Pollin Center course about healthy living, notes, "It's added to my life—not least in teaching me to care for myself."
Shehada comments, "Empowerment in our community doesn't mean challenging the men. Changes are framed to show them that we care about them and their children and cherish their health." One husband, Elliman reports, now helps his wife plan walking routes for her women's group, even though these outings without men are usually frowned upon in their community.
"It's enormously exciting to have an opportunity to profoundly influence a nation's health," says Dr. Zwas. "Because of changes women are making today, we can expect a significant drop in cardiac mortality 20 years from now."
Read Elliman's full article in Hadassah Magazine.
Photo caption: The Pollin center sponsors health and wellness programs in the workplace. Photo courtesy of Keren Greenberg.