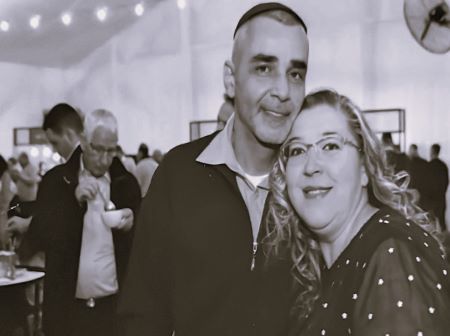 The worldwide Hadassah International community learned with great sorrow about the terrorist attack that took place on Friday night in Neve Ya'akov in Jerusalem.
Among the victims was Natalie Ziskin, a Hadassah staff member employed at Hadassah Hospital Mount Scopus. Both she and her husband Eliyahu were murdered by the terrorists while they tried to help the wounded.
Natalie Ziskin, 46, had worked until Friday in the food distribution department at Hadassah Mount Scopus Hospital for 20 years. She loved her job so much, always with a smile and a desire to give and provide to those hospitalized in the hospital's departments. Two years ago, she married Eliyahu after several years of friendship.
Ella Sakovich, Natalie's aunt, is a long-time employee in the Operations Department at Hadassah Mount Scopus. Friday night, she had to go with Natalie's mother to identify their niece and daughter, who was pronounced dead at the hospital immediately upon arrival after being evacuated from the scene of the attack by Magen David Adom.
Hadassah Medical Center Director General, Prof. Yoram Weiss:
"Hadassah employees bow their heads at this difficult time, mourning the passing of dear Natalie and her husband, Eliyahu.

Natalie was part of a large family, the Hadassah family, a long-time and well-known employee at the hospital.

The staff of Hadassah Medical Center wishes to console the family on their great loss and embrace them in their difficult hours.

Natalie and Eliyahu, her husband, may their memory be blessed."
Hadassah International President, Robert Dorfman:
"Our hearts go out to all members of Natalie's Family and the greater Hadassah Family on the loss of a devoted colleague and her husband through such tragic and senseless circumstances."
Hadassah International Executive Director, Jorge Diener:
"Terror attacks are evil acts. Evil doesn't have any color, religion, nation, or gender. Tragically, there are many evil people, who will kill and destroy innocent lives with no guilt attached. Natalie's story is not a victim story, it is the story of a simple as well as outstanding hero, one that couldn't stay behind safe doors when there was a call for help. She and her husband paid with their lives for that. We feel the pain, and we remember them in their humanity. As humanity against evil will always prevail. Let their memory be blessed and stay with us as a call to action!"