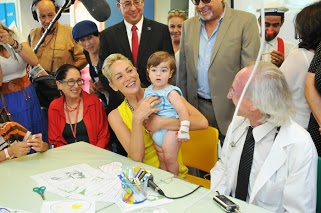 Hollywood Star Sharon Stone , a long- time activist to find a cure for AIDs, visited the Hadassah University Medical Center in Ein Kerem today to meet with Prof. Dan Engelhard, head of Hadassah's Pediatric AIDS Center, which has developed an integrative method of treating children who are HIV positive in Israel and around the world.
Ms. Stone was greeted by representatives of Hadassah, the Women's Zionist Organization of America, and said:
"I believe in the work you do, one person at a time, building this wonderful place. I urge everyone to do whatever they can do to help Hadassah."
Ms. Stone made bedside visits to hospitalized children. At the bedside of a child infected with a serious and rare virus, she urged the grandmother "to hear the special thoughts of this child and to listen for the joy of the message he sends you."
Revealing that she had lost three of her own children, Ms. Stone noted: "It's important not to make their memories all about loss and grieving. Each of us has a destiny to be with these children and to bring their messages forward in our lives." She also met with the children and staff of the hospital school, who presented her with art projects, and talked about her vision for Israel.
"I love Israel and I love all of you," she told them.
To reporters' questions about peace, she answered, "We can choose peace in our own good hearts," said Stone. "Jews and Palestinians are already living together… It's like a marriage. You see people who are married a long time, and they're hugging and kissing, still, and they enjoy their children and grandchildren. Others are still together but they've spent their whole lives miserable, fighting and bickering. Blame is a waste of time. It's the coward's way. We can have peace now. We're going to make mistakes, but there are always mistakes in life."
About Israel's President HE Shimon Peres, Ms. Stone said: "He's 90 years old and he lives in the present and the future."
Ms. Stone was updated on Prof. Engelhard's work in Israel and in Ethiopia, where his involvement with five orphanages of children with AIDS has saved thousands of young lives. In a private part of the visit, Ms. Stone met and comforted teens and young adults who have grown up with HIV.   She listened to each story, encouraged the patients, gave life experience advice, embracing each one. She told one of the Hadassah patients, who is today a law student, "It's a gift for me to meet you. You can't imagine the frustration at the beginning of this struggle when we had nothing to offer, and no matter how hard we worked, we saw no results. To see you, bright and beautiful, with a great future ahead is inspiring."