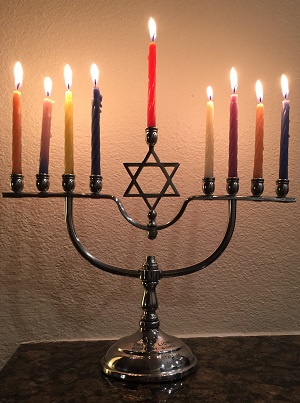 Who is home for the holidays because of your devoted work to create Hadassah's institutions and make them the special places they are?
On October 10, Noa and Hanoch Greenfield and their four children -Yiftah, 11; Ahinoam 10;Ivri, seven; Nevo, five – from Ma'aleh Michmash northeast of Jerusalem were on a family vacation in the Republic of Georgia, a popular travel site for nature-loving Israelis.
Hanoch , 42, was driving the large, four-wheel-drive vehicle when visibility turned bad. He inched along, five miles an hour, eager to get to lodgings. Then suddenly, disaster struck. The jeep slid off the narrow road, plunging 250 feet into a ravine. Ahinoam and Nevo were killed. The Georgian rescue team was devoted, driving the injured over 100 miles on pitted roads to a hospital, but Noa, with a broken neck, and Yiftah with a compound fracture, needed the superior medical care they could get in Israel. However, Tuesday was Yom Kippur eve. Ben-Gurion Airport was closed. It hadn't been opened on Yom Kippur for seven years. Opening would require the Prime Minister's special permission and someone to fill the plane with fuel.
Dr. Josh Schroeder, a Hadassah Medical Organization orthopedic surgeon spine specialist who lives in Modi'in was asked to travel to bring them home if a rescue could be organized. He was home with his wife and children eating the meal before the Yom Kippur fast.
Dr. Schroeder is my son. I'd just wished him an easy fast and an easy day.
The cantor was chanting the Kol Nidre prayer in the synagogue when Josh's cell phone vibrated. The flight was a go. Could he come with the plane to stabilize the patients? He consulted the hospital director, the head of the spine unit, (Russian-born) Prof. Leonid Kaplan and Prof Iri Liebergall, head of orthopedics. They gave him the green light. He asked someone to tell his wife, in the women's section of the synagogue, that he was leaving.
He had to get to the hospital in Jerusalem to pick up a neck stabilizing kit. The highway was filled with bikers, taking advantage of the empty roads on Yom Kippur. An ambulance rushed him to the airport where he met the other team members.
The plane took off at 9:58 p.m. They landed close to midnight. Josh stabilized Noa's neck, and Yiftah's leg. Both were in critical condition and would die if they couldn't get back to Israel. Hanoch and Ivri had light injuries. After five hours on the ground they took off.
"I was worried that it would be hard to gather the staff on Yom Kippur. What a beautiful sight to find all of Hadassah there waiting," Josh said. Many, like Prof. Liebergall, had walked. Others came by bike. Ambulances had worked overtime bringing others. They operated all day. When they finished, the last prayers of Yom Kippur was being sung at the hospital's synagogues, with the Book of Life sealed. Yiftah and Noa had survived.
Yiftah, who recovered quickly from the orthopedic surgery at Hadassah Hospital is home lighting candles this Hanukkah. Noa still has a long recovery in rehabilitation ahead of her. She's regained the use of her hands, an excellent sign.
Think about the work you do for Hadassah tonight when you say the Hanuakkah blessing…sh'asa nissim over your candles. Nissim are miracles. They don't happen in a vacuum. They require human endeavor.
Hadassah: where you can join in making  miracles happen.
Hanukkah Sameach!
By Barbara Sofer
Israel Director of Public Relations, Hadassah, the Women's
Zionist Organization of America