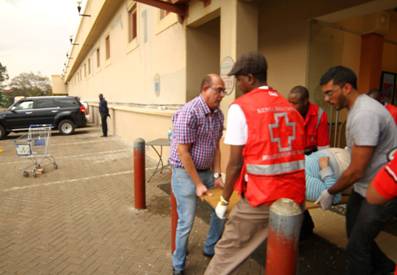 Kioko Kiilu, a 2007 graduate of the Hadassah-Hebrew University Braun School of Public Health and Community Medicine, now Emergency Health Manager for the Kenya Red Cross Society (KRCS), was a first responder when the Israeli-owned Westgate Mall in Nairobi was attacked by a group of terrorists.   Read his story:
On Saturday, September 21, 2013, Mr. Kiilu received a call from the Kenyan Emergency Operation Center, telling him that there were fatalities and mass casualties at the Mall. An armed group had forced its way into the mall and attacked with hand grenades and guns. The Westgate Mall, Mr. Kiilu relates, is a popular shopping center with the diplomatic community, as well as Kenyans and foreign visitors. On an average weekend, the multi-story building has an estimated 10,000 visitors at peak times.
"The scene was terrifying at first sight," Mr. Kiilu recalls, "but as a first responder, I knew my business was to save lives." He continues: "Quickly I started stabilizing victims and evacuating them, using the ambulances that had come from all over the city. Within the first hour, we had evacuated over 60 seriously injured individuals and removed 15 bodies. In the process, the situation worsened with more gun shots being heard from within the building and we had to take cover. Shortly, a special unit from the Kenya Defense Forces (KDF) arrived and we coordinated the evacuation of more people who were stuck in the mall."
Over 600 individuals were evacuated and taken straight to the hospital. Before nightfall, all systems within the KRCS disaster operation were up and running. A well-wisher gave space at the Visa Oshwal community center, where KRCS set up a command center. RFL (Restoration of Family Links) had set up an information desk, psychosocial counselors were already on site, and volunteers set up a triage center for further evacuation and recovery after the KDF secured and cordoned off the building. At close of day, one KDF unit was still inside, fighting the terrorists and trying to secure the building so that further humanitarian workers could be allowed in to carry out more evacuations.
"The Kenya Red Cross Society," Mr. Kiilu notes, "continued to lead the humanitarian work in the days that followed. I wrote situation updates for the operation and requested funding from the International Federation of the Red Cross and Red Crescent (IFRC), which was approved and disbursed within 24 hours."
Mr. Kiilu brings out that the KRCS' motto is: "Always there–First in, Last out (FILO)." Looking back on this mass casualty event, Mr. Kiilu says, "We remained true." He adds: "I was happy to be a part of the team that saved many lives and extend my heartfelt condolences to those who lost their loved ones. May they rest in peace."