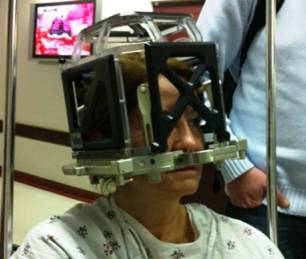 A major referral center for patients with movement disorders from all over Israel, the Hadassah Medical Center's unit for Parkinson's disease and Movement Disorders is also the nation's largest center for Deep Brain Stimulation (DBS) treatment for patients with either Parkinson's disease or dystonia.
DBS, a neurosurgical procedure, involves implanting electrodes within certain areas of the brain which will produce electrical impulses to regulate abnormal brain activity. The amount of stimulation in DBS is controlled by a pacemaker-like device placed under the skin in the patient's upper chest. A wire that travels under the skin connects this device to the electrodes in the brain.
To optimize treatment for its patients and give them the most relief from their symptoms, Hadassah's physician/scientists are exploring various state-of-the-art technologies. Among them are:
3D virtual systems and development of algorithms to identify the degree of involuntary muscle movement and diminished facial expression, characteristic of Parkinson's disease. Such technologies may, in the near future, help to optimize DBS programming and to adjust the dose and timing of medication in patients with or without DBS.
Multi-channel recordings of electrical potentials through the scalp and subsequent development of algorithms for fast detection of the optimum amount of stimulation to provide the brain following DBS surgery.
Electrophysiological tools during DBS surgery and following the procedure to understand the pathophysiological processes in the basal ganglia in Parkinson's disease.  The basal ganglia is a group of structures linked to the thalamus in the base of the brain, which is involved in coordination of movement.
The scope of Hadassah's research is quite diverse: Hadassah's movement disorder specialists are also studying the impact of Parkinson's disease on energy expenditure during exercise in collaboration with Hadassah's Department of Pulmonology, as well as identifying recessive genes in the Arab population which are causing Parkinson's disease.
Dystonia
Dystonia, a poorly understood and debilitating movement disorder, is characterized by abnormal motor output induced by purposeful movements. The physiological processes leading to dystonia are still unknown, although a central role of the basal ganglia in these processes is assumed. Hadassah Neurologist Dr. David Arkadir relates that during a fellowship at Columbia University Medical Center, he studied the relationship between brain plasticity and learning processes in patients with DYT1, the most common hereditary form of dystonia among Ashkenazi Jews. He and his colleagues showed that predictions that were based on genetically modified animal models of this disease were relevant to humans with the disease.
In his current dystonia research, Dr. Arkadir is striving to understand the disease from multiple perspectives–from human behavior to brain network processes to basic genetic aspects. For example:
Identifying the brain networks involved in dystonia by having patients with dystonia perform behavioral tasks while recording their brain activity using non-invasive imaging techniques.
Studying the relationship between the neuronal activity in the basal ganglia and different types of dystonia (genetic and non-genetic) during DBS surgery. This study aims to find the common pathological pathways linking different types of dystonia, both genetic and non-genetic.
Looking for genes that modify the clinical severity of DYT1 in order to reveal pathways for new potential therapies.
As Dr. Arkadir brings out: All of these research projects and state-of-the-art technologies share a common mission: "to learn how to better manage these movement disorders and provide patients with an improved quality of life."