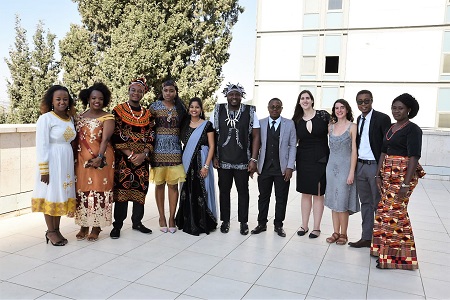 On September 2, 22 students from 16 different countries celebrated their graduation from the International Master of Public Health (IMPH) program at the Hebrew University-Hadassah Braun School of Public Health and Community Medicine.
Hailing from Cameroon, China, the Democratic Republic of the Congo, Ethiopia, Fiji, India, Kenya, Malawi, Myanmar, Nigeria, South Sudan, Tanzania, the Philippines, Turkey, Uganda, and the US, the graduates are returning to their homelands poised to contribute to the advancement of public health. As the graduation speakers noted, COVID-19 has illuminated the pivotal role public health experts must play in battling this challenging pandemic and any that may follow. "Go fight the good fight," outgoing Braun School Director Prof. Yehuda Newmark told the graduates.
As the IMPH program looks toward celebrating its 50th anniversary next year, there are nearly a thousand health professionals in 100 countries who have been trained by the Braun School to provide quality public health services to their compatriots.
Listen to the graduates sing the Israeli song "Od Yavo Shalom Aleynu"  (Peace Will Come to Us Yet).