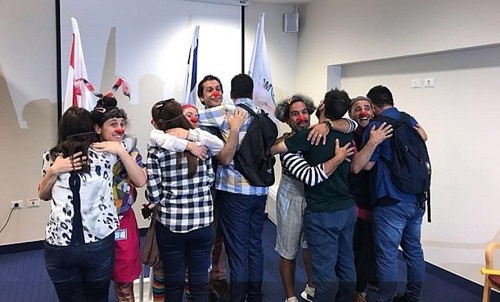 A group of Yazidi refugees travelled to Israel from Iraq in June to take a course in medical clowning, with the goal of helping traumatized children from the persecuted minorities in their war-ravaged country.
The course, which took place at the Hadassah Hospital in Jerusalem, was prepared by the Dream Doctors' Project and was supported by the Israel Ministry of Foreign Affairs.
The group of five students participated in a week-long intensive training with master teacher and veteran Dream Doctor – David DuSH BarasHi and his team.
"The participants in the special training left Israel with new tools and techniques that will help them put smiles on the faces of people who live in war zones, regardless of their ethnicity, religion or gender," the Foreign Ministry said.
One participant said, "We gained superb techniques on how to really reach out to the kids, particularly when they are distressed, ill, and frightened. A child who receives special attention before undergoing surgery or other medical procedures will surely feel more protected, and will be able to forget, at least briefly, the ensuing pain or difficulty.
We are grateful to everyone involved in making our training possible — without your help we would not be here."
Both Hadassah Australia and Hadassah United Kingdom raise money to support the Hadassah Medical Clown project.
Read more at https://www.timesofisrael.com/iraqi-yazidis-take-medical-clowning-course-in-israel/