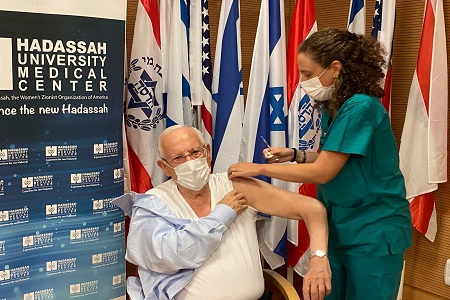 Israel has just begun administering third doses of the Pfizer vaccine to people over 60 years of age in Israel. On August 2, Reuven Rivlin, former President of Israel, received this booster shot at Hadassah Hospital Ein Kerem from nurse Hava Gardner. Prof. Yoram Weiss, acting director-general of the Hadassah Medical Organization, and Dr. Inon Buda, deputy director of Hadassah Ein Kerem, accompanied him.
"I came to be vaccinated because it is important that we all do this," emphasized Rivlin. "That's how we protect the public, and that's how we protect ourselves."
Rivlin thanked the medical teams that are doing this sacred work in Israel's vaccination campaign and congratulated them on their efficiency and speed.
Photo caption: Former President, Mr. Reuven (Ruvi) Rivlin receiving booster shot at Hadassah Ein Kerem