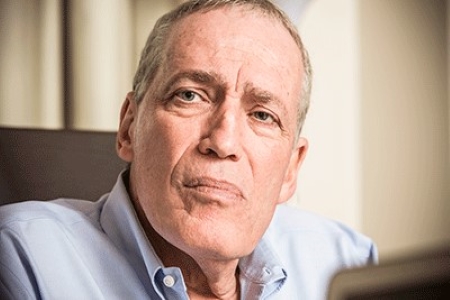 Prof. Avi Rivkind, the founding head of Hadassah Hospital Ein Kerem's Shock Trauma Unit, has been chosen to light a torch in Israel's main Independence Day ceremony on Mount Herzl on April 25 in the annual ceremony marking the close of Memorial Day for the Fallen Soldiers of the Wars of Israel and Victims of Terror and the beginning of Israel's 75th Independence Day.
The torch lighting, considered a great honor in Israel, is the central attraction of the evening and honors Israelis who have made a meaningful contribution to the development of the country and its society. The ceremony is broadcast live on Israeli television and radio.
Hadassah Medical Organization Director General Prof. Yoram Weiss explained, "Avi Rivkind is a worthy and appropriate choice. Professor Rivkind is a compassionate and professional surgeon, closely linked with the development and glorious name of Hadassah in Israel and around the world. The announcement of his selection brought real joy to Hadassah employees, management, and the Board of Directors. I want to underscore Avi's contribution to the treatment of trauma victims, a field he led in the State of Israel. I congratulate him on behalf of the Hadassah Medical Organization and the thousands of patients who owe him a debt of gratitude for saving their lives."
The name Avi Rivkind is synonymous with trauma medicine in Israel. In 1992, his presentation to the leadership of Hadassah USA persuaded them to establish the first trauma unit in the country at Hadassah Ein Kerem, where he served as the director of the Department of Surgery and managed the Department of Emergency Medicine. During the second intifada, Hadassah treated half the terror victims in Israel.
Since its inception, the Trauma Unit has saved countless lives and is a model for other trauma units in Israel. Recognized as a global leader in the field of trauma, Prof. Rifkin has received many requests from around the world to treat seriously injured victims of terror events or major disasters. He joined Hadassah International in Argentina to teach trauma courses and how to build a trauma cart for young Argentine doctors, aiding victims of the attack on the Jewish Community Center (AMIA) in Buenos Aires in 1994, people injured in the 2002 attacks in Kenya, Sri Lankan tsunami victims in 2004 and survivors of the Annapurna snowstorm in Nepal in 2014.
Prof. Avi Rivkind has a deep and longstanding connection with Hadassah International, which has helped in Brazil put Hadassah on the map. Jorge Diener, HI's Executive Director, and Ethel Fainstein, HI's director for Latin America were privileged to take Prof. Rivkind to Brazil for a series of events and meetings many years ago. In addition, he visited and presented to donors and friends of Hadassah International in London – UK, Zurich – Switzerland, and many other places.
During the height of the intifada, Boston doctors came to Israel to show solidarity and learn from Prof. Rivkind and his trauma doctors. The lessons learned from Prof. Rivkind and his team at HMO during that time were publicly credited by the heads of Boston hospitals as helping to save many lives during the tragic Boston Marathon bombing 10 years ago. Prof. Rivkind is truly a living legend in the field of trauma medicine.
Prof. Rivkind graduated from the Hadassah-Hebrew University School of Medicine in 1973. He began his specialization in general surgery seven years later, followed by a shock-trauma fellowship at the University of Maryland.
In addition to his renown in trauma, Prof. Rivkind is also an expert in general surgery.
Some 15 years ago he established Young People Driving Differently, a national flagship project in which high school students learn about the devastating consequences of road accidents. In coordination with Hadassah management and the Jerusalem City Hall Department of Safety, the program teaches new drivers about the treatment of trauma victims and the consequences of accidents for family members; it includes a meeting with a wheelchair-bound victim of a road traffic accident. Thousands of youngsters have participated in this ongoing program at both Hadassah hospital campuses.
On being chosen for this honor, Prof. Rivkind stated, "The honor of being chosen to light a torch surprised and thrilled me. This is the closing of a circle for my family and me. As the son of Holocaust survivors who underwent terrible suffering until they arrived in Israel, I dedicate this great honor to them. I thank the selection committee and Minister Miri Regev for recognizing my work and my contribution to the State of Israel."
UPDATE about the actual ceremony which was shared in the following article:
Prof. Avi Rivkind, who founded the Shock Trauma Unit at Hadassah Hospital Ein Kerem and is a renowned expert in trauma injuries, was chosen to light the torch at Israel's principal 75th Independence Day celebration in Jerusalem. Accompanying him at the podium and also lighting the torch was Dr. Khetam Hussein, an infectious disease control specialist at Rambam Medical Center in Haifa.
Each year twelve individuals who have made extraordinary contributions to Israeli society are honored on Independence Day at the torch-lighting ceremony.
To read the complete story, click here.
Photo caption: Screenshot of the below video of the event. Prof Avi Rivkind (r) and Dr. Khetam Hussein, an infectious disease control specialist at Rambam Medical Center in Haifa.
Watch below the entire ceremony. To watch Prof Rivkind and Dr. Khetam Hussein's part scroll to minute 51.
Pictures by courtesy Pascal Mora (Photographer).
Read about Prof. Rivkind's personal story regarding the Holocaust Yom Hashoah (Holocaust Remembrance Day): Prof. Avi Rivkind's Personal Story
Read an Interview with Prof. Avi Rivkind, originally published in German in the Swiss Newspaper SONNTAGSBLICK, on OCTOBER 18, 2015