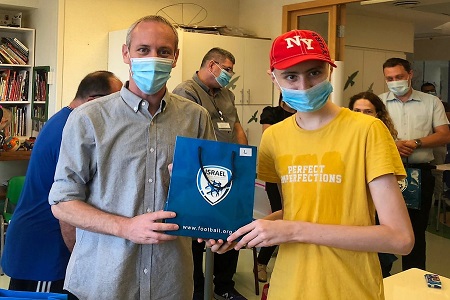 Israel's Minister of Culture Hili Tropper, who donated a kidney this past February to someone he did not know, visited children in Hadassah's Pediatric Hemato-Oncology Department on Tuesday. Tropper and his wife, Tsofit, who is a nurse in the department, wanted to do something to cheer up the children on the first day of the new school year—a day when most of the young patients' friends were returning to a familiar routine. The minister handed out gifts donated by Israel's soccer association.
During the visit, Tropper met the head of the Hadassah School, Edna Pinchover, who told him that remote learning is nothing new to Hadassah and described the classes the hospital provides to the youngest patients.
Tropper was the first incumbent member of the Israeli Knesset to donate a kidney. He was guided through the complex medical process by Matnat Chaim (Gift of Life), a nonprofit organization dedicated to encouraging healthy volunteers to donate kidneys to patients who require a transplant. Tropper is Matnat Chaim's 780th donor.