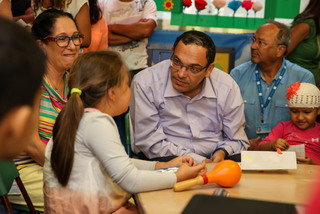 "We pray that all of you will go home strong and healthy and return to your local schools," Israel's Education Minister Shai Piron told the children during his visit to the Hadassah Experimental School (HES) at the Hadassah Medical Center's Charlotte R. Bloomberg Mother and Child Center.
The Minister had come to the hospital to wish the young patients a Happy New Year.
HES is maintained by Israel's Ministry of Education so that students undergoing long-term hospitalization can keep up with their studies.