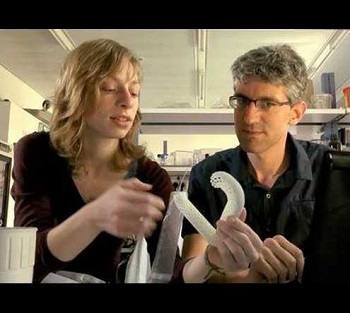 To enhance the likelihood of medical innovations reaching the marketplace, the Director of the Hebrew University of Jerusalem's Center for Bioengineering, Dr. Yaakov Nahmias, partnered with the Director of the Hadassah Medical Center's Heart Institute, Prof. Chaim Lotan, to create Israel's first Biodesign Medical Innovation program.
"We knew that Stanford University's Biodesign program was the most successful medical innovation program to date," says Prof. Lotan, "and considering the outstanding students at the Hebrew University and Hadassah, we were certain we could give them a run for their money."
As Dr. Nahmias explains, "When it comes to bringing an idea to market, there is a huge disparity between 'Hi-Tech,' where a few programmers can succeed, and 'Bio-Tech,' where clinicians, engineers, and business experts must all work together to bring a product to market."
The new multidisciplinary biodesign program tutors a team of outstanding medical fellows and bioengineering and business graduate students in the science and practice of bringing a medical innovation to market. The teams receive a list of clinical problems, collected from Israeli and American hospitals, and critically evaluate their commercial potential. Once they identify a clinical need with commercial potential, they find an engineering solution that can be protected by a patent application. After one year, the program already has four projects that have passed through the proof-of-concept stage and are showing excellent market potential.
Read the full article on Hebrew University's website, http://new.huji.ac.il/en/article/18081
See videos about the innovations at http://bit.ly/biodesign.