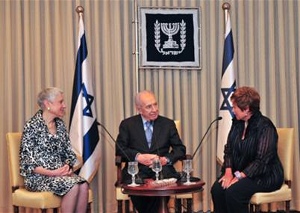 "No institution models a place of complete peace under the most demanding circumstances more than Hadassah," Israel's President Shimon Peres said at a special September reception welcoming the new Hadassah National President Marcie Natan.
"Why is it?" he asked, "that we can get along when we're sick, but can't get along when we're well?"
During the reception, Mrs. Natan introduced the President to the Hadassah University Medical Center's new Director General, Prof. Ehud Kokia. President Peres predicted that the Medical Center would be a major player in the next phase of Israel's priorities– medicine, biology, and brain research. Hadassah will be a significant force, he said.