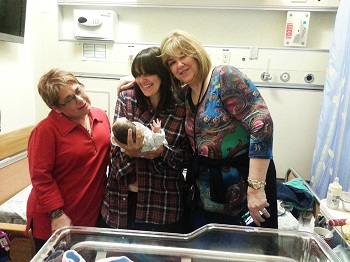 Al Jazeera photographer Tanya Habjouqa, from Texas, went to Hadassah Medical Organization recently to shoot for a special program on medicine for the media outlet. Among the doctors she photographed was Hadassah's Dr. Mushira Aboo Dia.
When Habjouqa returned to Hadassah Hospital the following week to have her baby, Dr. Aboodia was on hand to deliver her son. Debbie Levine (Right), a member of the National Board, and Hadassah Member Mickey Schnitzer (Left), who are also from Texas and were visiting the hospital, met up with Habjouka at the hospital.
Below are screenshots of the pages on the Al Jazeera website with the photographs that Tanya Habjouqa took at the Hadassah Hospital. They are a part of the Al Jazeera November 3013 Health Magazine — From Afghanistan to Mexico.