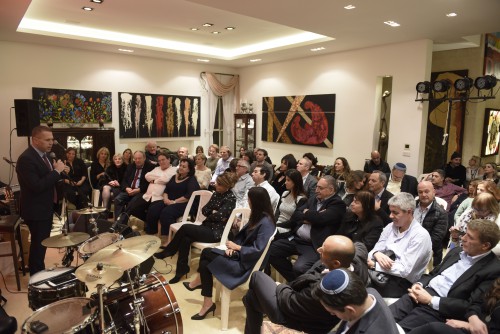 The Board of Hadassah International Israel, chaired by Dalia Itzik, convened for its first meeting in 2017 in the home of Ronnie Kobrovski, a member of the Board of Trustees. Attending were Hadassah International Israel Board Members; Erez Meltzer, Chair of the Hadassah Board of Directors; Prof. Yoram Weiss, Director of Hadassah Ein Kerem and his wife; Deputy Director General Prof. Alon Piekarski and Dr. Liat Appelbaum; Professor Haim Lotan and his wife, Prof. Joy Weigel; Prof. Yigal Shoshan and his wife; as well as several other Hadassah Medical Center Administrators and Senior Staff members.
The event began with a cocktail party enjoyed by 140 distinguished board members and many guests.
The evening was opened by Ms. Dalia Itzik, Chairman of the Board with greetings and thanks to the active members in 2016. Meir Mark, the Hadassah International Director of Israel, outlined the proposed activity plans for 2017. Prof. Zeev Rotstein, the Hadassah Medical Center CEO, described the achievements of his first year at Hadassah, and presented an update of his plans for the future of the medical center.
Certificates of appreciation were presented to major donors who contributed to the fundraising events of 2016.
The key note speaker for the evening, ​​Security Minister Gilad Erdan, spoke about the challenges he faces and reforms he has implemented in his capacity as Minister of Public Security.
During the evening guests enjoyed delicious food and and entertainment provided by by Moshe Lahav, who presented Best Songs of Israel. Comedian Yakov Cohen was among the guests who also participated in the singing.
Many distinguished representatives of Israeli business and society were also in attendance to support Hadassah International Israel.