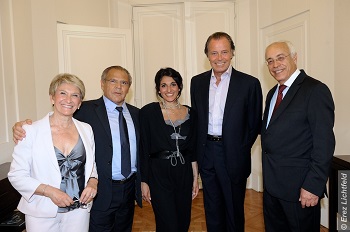 On June 6, Hadassah France hosted an evening of jazz and a cocktail reception at the beautiful residence of the Ambassador of Israel in France, His Excellency, Mr. Yossi Gal. The 140 attendees were treated to an evening with comedian and sponsor of Hadassah France, Michel Leeb, and two musicians who played great jazz classics. With his inimitable talent, Mr. Leeb had the audience laughing all evening.
During his presentation, Dr. Sydney Ohana, President of Hadassah France, discussed the latest news from the Hadassah Hospital, as well as recent advances in research at Hadassah. He also impressed the audience when he spoke about the visit of the Palestinian Ministry of Health to the Hadassah Hospital, which has captured the attention of the public and helped to build the reputation of the Hadassah Hospital as a center of excellence for medicine and as a pioneer in the dialogue for peace.
Ambassador Gal, praised the work of Hadassah and called for the strengthening of the scientific cooperation between France and Israel.