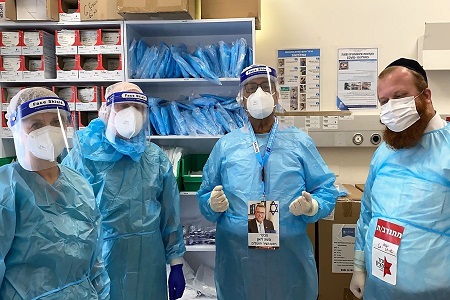 In visiting one of Israel's busiest COVID-19 units at Hadassah Hospital Ein Kerem for the first time on January 19, Jerusalem Mayor Moshe Lion witnessed up close the pressure that Hadassah's COVID-19 medical teams are facing, as they treat over 130 patients, many with complex medical conditions.
"This is a very difficult situation," he said. "In the short time I was on the unit, I saw with my own eyes the destructiveness of this virus, and I appreciate each doctor, nurse, and volunteer who puts on protective gear and enters the unit multiple times a day to care for so many sick patients. There is nothing liking seeing the situation with your own eyes to illustrate this.  All my respect to Hadassah and the excellent COVID-19 volunteers. You are doing wonderful work. I call on everyone to come to volunteer."
Mayor Lion received his second dose of the COVID-19 vaccine at Hadassah over a week ago.