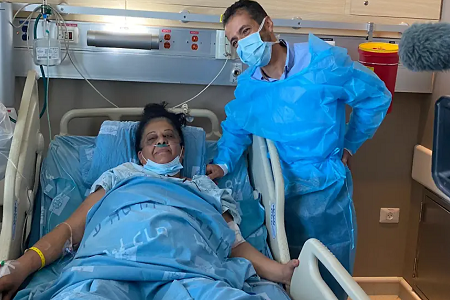 Randa Aweis, a 58-year-old Christian Arab, has been treated at Hadassah Hospital Ein Kerem for nine years. Her need for a kidney transplant had become urgent. When Yigal Yehoshua died from his injuries after a mob threw rocks at him as he headed home from a Torah-dedication ceremony in Lod last week, his family consented to donate his kidney.
The transplantation was performed by Dr. Abed Khalaileh, director of Hadassah's Kidney Transplantation Service. "Yigal will go straight to heaven, to a better place," relates Aweis. "Here we—Christians, Muslims, and Jews— must all strive for peace. All of us. I can't wait to host Yigal's family in my home."
She adds, "I can already feel a difference in my body, and that's thanks to the wonderful work of Hadassah. There's no place like Hadassah."
Read more at Israel21c and in The Jerusalem Post.
Photo caption: Randa Aweis and Dr. Abed Halaila shortly at Hadassah-University Medical Center shortly after Aweis received a new kidney from Lod lynch victim Yigal Yehoshua.