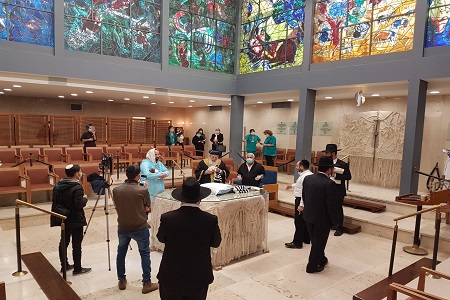 Eight days ago infant Raphael Baruch was born in a delivery room specially set up for his mother, who had been in quarantine before being rushed to Hadassah Hospital Ein Kerem when she went into labor. After his birth, the mother, found to have the coronavirus, was isolated in the Outbreak Ward at Ein Kerem. Her infant, uninfected by the virus, was being cared for in another part of the hospital. His mother kept "in touch" through the kindness of the maternity nurses and photos sent to her computer.
Now, eight-day-old Raphael Baruch, named for the healing angel Raphael and the Hebrew blessing, was having his circumcision, or brit mila, at the hospital. Because of national gathering restrictions, only 10 persons, including the mohel performing the circumcision and the sandak holding the baby, chief Jerusalem Sephardic Rabbi Shlomo Amar, could attend.
Hadassah Rabbi Moshe Klein, himself at home in quarantine, relates, "The first mohel who was suggested was interviewed by infectious disease expert Prof. Ran Nir-Paz and was asked not to come to the hospital after Prof. Nir-Paz learned that the mohel's grandchildren had visited him on Shabbat, putting him at risk for the virus. A second mohel was questioned and okayed by Prof. Nir-Paz." The father, who remained at home with the other children, and the mother, who is still hospitalized, watched the brit online.
Rabbi Klein emphasized that this is far from the first time that special arrangements have been made at Hadassah for parents or other relatives to watch a ceremony they couldn't attend in person. "We at Hadassah Hospital have had to come up with many creative solutions that come with the territory of a hospital that deals with the most complex medical conditions. Everything in this brit went smoothly. Mazal tov to the family. And, as we say, may the little one grow up well, to Torah, to his wedding huppah, and to a life of doing good deeds."