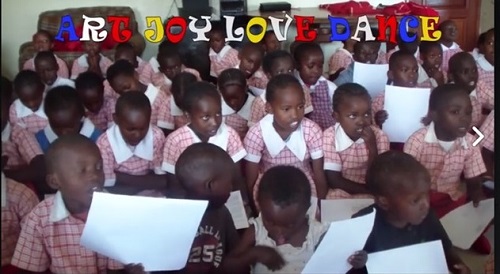 In synch with its philosophy that children with HIV/AIDS need more than just medicine, the Hadassah Medical Organization recently brought song and dance to orphaned children in Kenya, as part of its ART Joy Love project.
ART Joy Love is Hadassah's extraordinarily successful program in Africa to combat pediatric HIV/AIDS, spearheaded first in Ethiopia by Hadassah Senior Pediatrician and Infectious Disease Specialist Prof Dan Engelhard. As Prof. Engelhard explains: "When we started in the Mother Teresa Orphanage in Ethiopia, where most of the 400 children were dying of HIV/AIDS, 25 percent of them died each year. In a short time, that death rate dropped to 1 percent!"
During the May song and dance event, Musician Elad Neeman taught the children the song he composed together with Prof. Engelhard and Dancer Saray Gelb taught them a dance. Prof. Engelhard initiated this event, which was also hosted in Ethiopia and Uganda. The song's lyrics aim to boost the children's mood and empower them to dream. Watch the children of St. Ann Home enthusiastically singing and dancing on ART Joy Love's Facebook page.