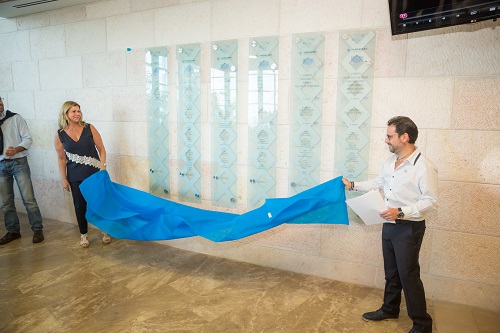 On April 16, 2018, a special ceremony was held to dedicate the new Metta Cohen Pediatric Intensive Care Unit (PICU) in the Hadassah Hospital at Ein Kerem. Together with distinguished representatives from Keren HaYesod (United Israel Appeal), over 80 members of the *Alianza Monte Sinai Jewish Community from Mexico City came to Hadassah for this celebratory dedication.
After being warmly welcomed at the entrance to the Sarah Wetsman Davidson Hospital Tower, the delegation from Keren HaYesod and Alianza Monte Sinai Jewish Community from Mexico City proceeded to the Healing Garden on the 2nd floor at the entrance to the PICU to see the plaques recognizing their gifts to Hadassah.
Here they were welcomed by Jorge Diener, Senior Director of International Projects, and Andy Weisner, Director of Keren Hayesod Mexico.
The delegation listened with a full heart to the mother of one of the children that has benefited from the PICU.
"Thank you for giving us our daughter's life," said Shoshana Balofsky. With tears streaming down her face, she shared her daughter's story.  "My daughter was born with half a heart. Only two days after her birth, she underwent her first heart surgery, and we entered the PICU at Hadassah for the first time.
We lived in the PICU for 24 days. During that time the nurses and staff were so supportive of me and my husband and the medical team took incredible care of my daughter. She got stronger every day and today, after three more heart surgeries and multiple stays in the PICU, she is a rambunctious four- year-old enjoying life and jumping off the furniture. She has an incredible quality of life because of the amazing care we received at Hadassah."
After the unveiling of the plaques, delegates had the opportunity to find their own names on the wall and take photos of themselves next to their personal plaque.
After this initial dedication ceremony, the delegation moved to the Panama Meeting Room to learn more about Hadassah, and how their contributions are making a difference.
Professor Yoram Weiss, Director of Hadassah Ein Kerem Medical Center, stated: "We provide the best care to all our patients. Last week the Israeli Ministry of Health evaluated Hadassah and determined that we provide excellent and extraordinary care."
Prof Eitan Kerem, Director of the Division of Pediatrics praised the Mexican Jewish community for its uniqueness and support of important initiatives in Israel, and continued by saying, "I am thankful and proud that you chose our PICU. Jerusalem deserves an amazing pediatric center. Our PICU cares for hundreds of patients annually, from the diverse range of populations in the Jerusalem region, including the ultra-Orthodox, Arab, Palestinian, and settlers from the surrounding area. Hadassah is an island of peace in this complex region at this complicated time. We are proud to continue the health and humanitarian mission that Henrietta Szold began 100 years ago."
"This partnership between Keren HaYesod, Monte Sinai and Hadassah is only the beginning of a long-term alliance to support Hadassah's critical activities," said Yoel Elbom, Director of Keren HaYesod Latinoamérica.
The President of Keren HaYesod Mexico, Moy Tussie, shared, "I am overcome with emotion as I stand at Hadassah's new PICU – a place that has saved so many lives and will continue to save many lives. This is particularly meaningful this week as Israel celebrates its 70th year as a State."
"We are so proud to be able to contribute to this life-saving unit," said Tere Metta Cohen, from the Alianza Monte Sinai Community.
Lina Kalby, Vice-president of the Alianza Monte Sinai Community and Meny Samra, Chair Israel-Mexico Chamber of Commerce, also spoke about how meaningful and important this joint contribution from the entire community is.
The whole group then joyfully moved to Hadassah Ein Kerem's Abbell Synagogue with its inspiring Chagall Windows, where they celebrated with Israeli songs and dances.
Ethel Fainstein, Hadassah International Director for Mexico and Latin America, thanked Rabbi Tobal, the spiritual leader of the Monte Sinai community for over 25 years, for his commitment to Hadassah.  The Rabbi blessed the participants' dedication to Hadassah Hospital by saying that saving a life is like saving the whole world, but saving lives of children in Jerusalem is a double Mitzvah (blessing). He recited the Sheheianu blessing, which is recited on special occasions.
Mrs. Fainstein closed this emotional event by saying: "An important Rabbi once said that generosity makes the soul bigger and produces positive energy that brings blessings to the world. You, through your presence and gifts, have contributed to Tikkun Olam.
You have contributed to improving this world and leaving it a better place. Thanks to this partnership, we at Hadassah promise to work to combat diseases, improve the quality of life of the population and strengthen the connections between people. Hadassah International believes that when we are confronted with hatred, misery and violence, we have to respond with knowledge, human Brotherhood and peace."
*The first organized Jewish community in Mexico was established in 1912 – primarily by Syrian Jews. The Alianza Monte Sinai community, consisting primarily of Jews from Damascus, is now one of the two largest communities in Mexico City. Each year, this community makes an annual pledge to a Keren HaYesod (United Israel Appeal) project in Israel and works together to fulfill that commitment.