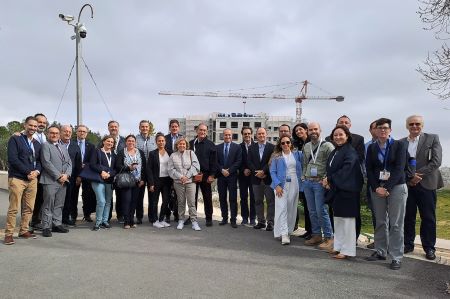 A delegation of 16 high-ranking officials and professionals representing seven member countries of ORITEL, a powerhouse organization that unites 13 American countries in the inspiring Teletón Foundation, recently visited the Hadassah Hospital in early March 2023. The purpose of the visit was to tour the Gandel Rehabilitation Center, a remarkable and magnificent masterpiece currently under construction on the Hadassah Mount Scopus campus.
Jorge Diener, the executive director of Hadassah International, extended a warm welcome to the delegation and lauded the Hadassah Hospital as a historic campus where the past meets the future, and where innovation and being pioneers in health and medicine are the core philosophies. Diener further emphasized the hospital's rich legacy as an architectural marvel and revolutionary solution in health care, dating back to the 1930s, and highlighted the latest project as a revolution in rehabilitation care, dedicated to the entire country and Jerusalem.
The delegation comprised prominent authorities and professionals, including Martin Farina, the President of ORITEL and the Teletón Foundation in Peru, and Fernando Landeros, the President of the Teletón Foundation in Mexico and ORITEL Board Member, among others. As the tour progressed, Diener highlighted the hospital's commitment to serving all demographics in the city of Jerusalem, including ultra-Orthodox Jews, Arabs, non-ultra-Orthodox Jews, non-Jews, diplomats, and Christians, who account for approximately 4 or 5% of the population. He also noted that Hadassah is the second-largest employer in Jerusalem.
The visit was further enriched by the presence of distinguished guests, including Abel Lipszyc, President of Hadassah Chile, the esteemed Chilean Ambassador to Israel, Jorge Carvajal, Ambassador Bernardo Greiver, Consul Ifigenia Xifre from the embassy of Uruguay, and Alejandro León, a representative of the Mexican embassy. Ambassador Carvajal expressed his delight at being part of the memorable visit and his eagerness to explore possibilities for utilizing the impressive advances in Chile's Teletón.
Overall, the visit served as a valuable opportunity for the ORITEL delegation to witness the innovative healthcare solutions and pioneering spirit of the Hadassah Hospital, and to explore potential avenues for collaboration and knowledge exchange with the Teletón Foundation.
Read in Spanish the article about the visit which was published in Iton Gadol.