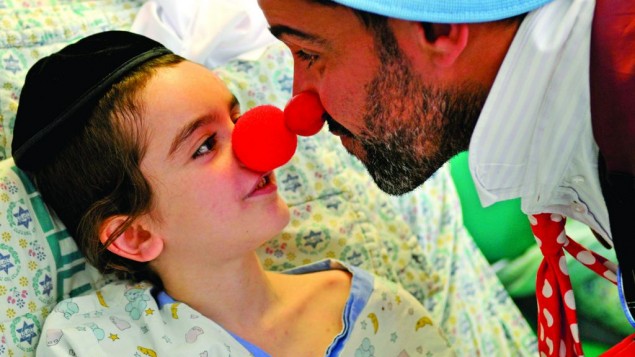 By Caron Kemp.
He gently turned the handle on the old-fashioned minute music box, producing a calming, beautiful sound that filled the space between himself and the young man cowering in the opposite corner.
As all else was silent and the melody continued its slow steady rhythm, the fear and uncertainty gently washed away.
Encouraged by the simple yet sincere gesture, this young man – who struggles every day to interact with other people – looked up and met Dush's glance.
In that brief moment, years of barriers were undone.
For David Barashi, whose stage name Dush is a nod to his father's Kurdish roots, this connection was no accident. He has been perfecting his skills for 25 years and for the past 13 has been working at Hadassah Hebrew University Hospital, Ein Kerem, Jerusalem as a medical clown.
Read more about Dush's visit to the UK and the impact he made as he modeled the use of medical clowning in reaching out to patients who are afraid. This beautiful article written by Caron Kemp was published in the Jewish News, the UK's largest Jewish Newspaper. http://jewishnews.timesofisrael.com/laughters-the-best-medicine/