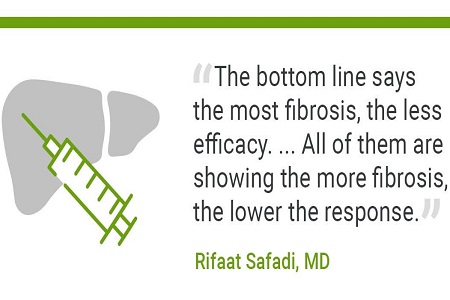 Dr. Rifaat Safadi, director of the Liver Unit at Hadassah Hospital Ein Kerem, has found that his patients who received liver transplants and those with advanced liver disease had a weaker response to the COVID-19 vaccine than is the norm.
The study's findings appear in the June 29 issue of Helio Hepatology, an online journal for health care professionals.
Dr. Safadi reports that before there were vaccines, Hadassah had 41 liver transplant patients infected with COVID-19. But during the last three months, he says, "We have not had any recorded transplant patients with COVID-19." Prof. Safadi had wondered whether this occurrence was a result of his patients being vaccinated or the result of the Israeli population is widely vaccinated. He decided to investigate whether his patients mounted a strong response to the vaccine.
Dr. Safadi's research revealed that there was about a 40 percent failure rate in mounting an effective response to the vaccine among his patients with liver transplants. He attributes this to immune system suppression. "That very nice result of a decline in disease in our transplant patients," he concludes, "is related more to general population vaccination."
For that reason, he reports, "I am now starting to boost my transplant patients who failed to develop any serologic response with a third shot."
Further, Dr. Safadi's studies found that those patients with more advanced liver disease had a less robust response to the vaccine. In addition, those who responded to the vaccine with a stronger immune response had a mean age of about 46, whereas those with a much lower response had a mean age of 61.
"The bottom line," Dr. Safadi says, is that patients with the most advanced liver disease receive the least efficacy from the vaccine.
Read more about Dr. Safadi's studies in Healio.