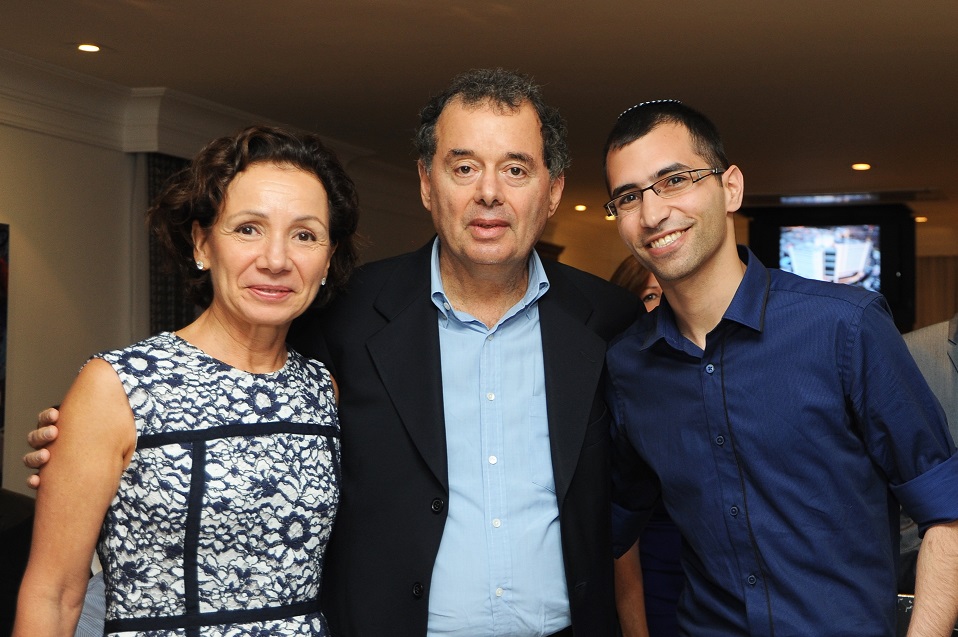 From left to right: Lilian Stuhlberger, Luis Stuhlberger and Dvir Musai
In what was the most important event ever organized by Hadassah in Brazil, 100 of the most important business and community leaders of the Jewish community in Brazil gathered to honor the generosity of Luis and Lilian Stuhlberger.
Luis and Lilian Stuhlberger became the first donors from outside of the USA to sponsor a Chagall Window at the Hadassah Medical Center, Ein Kerem. Their generous gift to Hadassah associates their name with the beautiful Issachar window painted by Marc Chagall, and at the same time it supports the completion of the Sarah Wetsman Davison Hospital Tower.
The event was hosted and sponsored by Fabio and Sophie Wajngarten. Fabio is the first and only South American member of the Hadassah International Board of Directors and the leader of Hadassah in Brazil. Thanks to his leadership, the event succeeded in gathering key philanthropists from Brazil along with international guests.
The program focused on two mains strengths of Hadassah Medical Organization: its role in saving lives and its leadership in cutting edge medical research and innovation.
Dvir Musai, a terrorist attack survivor and longtime patient of Hadassah, gave an emotional and graphic presentation that showcased the extra mileage that Hadassah doctors go to, not just to help the injured survive, but doing so in a way that guarantees that they still have a quality of life.
The topic of innovation was central to the evening and included a presentation on Hadassah's highlights in medical research.
The highlight of the event, unquestionably, was the honoring of Luis and Lilian Stuhlberger. Video messages from leaders of Hadassah International and HWZOA were shown expressing the gratitude of the entire Hadassah family for their generosity. As a tangible expression of gratitude for their gift, Fabio and Sophie Wajngarten, together with Ethel Fainstein and Jorge Diener representing Hadassah International, presented the Stuhlbergers with an original photograph by Yuval Yairi of the Chagall Window representing the tribe of Issachar.
As Luis Stuhlberger looked at the green colors of the Issachar window, he shared his personal connection to Chagall and to Hadassah. His story began when he was a teenager who during a visit to Hadassah, fell in love with the Chagall Windows.  Today, as a leading investor in green technologies, the Issachar Window was a perfect choice for closing a cycle that started decades ago.
"The green colors of the Issachar Window represent hope, and that is what Hadassah is about, giving hope to millions of people all over the world" he said closing the event.
And it is thanks to generous people like the Stuhlbergers and Wajngartens from Brazil that Hadassah is able to transform that hope into the reality of bringing healing to humankind.