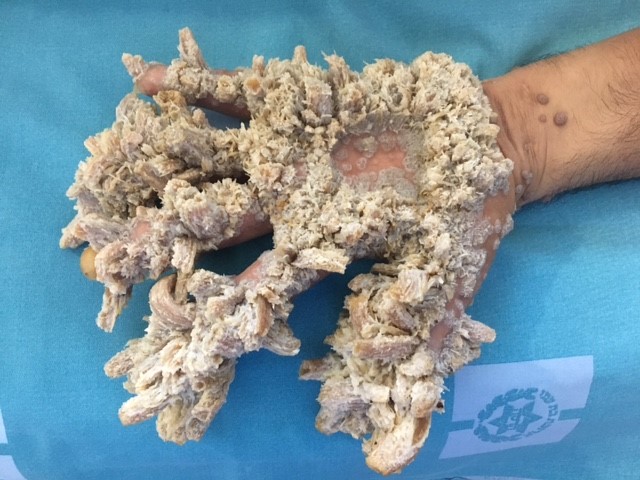 Even the experienced hand surgeons at Hadassah Hospital Ein Kerem had never seen such a shocking development: their patient's hands, with their encrusted, wood-like growths, looked as if they had metamorphosed into trees.
Hadassah Senior Hand and Microvascular Surgeon Dr. Michael Chernofsky first met 42-year-old Mohammed Taluli from Gaza when Mr. Taluli came in to his clinic, desperate for medical advice. His condition had defied all treatment.
"This is a very rare disease, which has no documentation in the medical books," explains Dr. Chernofsky. "A patient who has had many complex tumors covering his hands for more than 10 years, he's suffered from terrible pain, the inability to use his hands, and shame. The disease is also very dangerous and can develop into cancer."
Sometimes called "wooden man" or "tree-man condition," the disease is a complication of HPV,  human papillomavirus–the same virus that causes common warts. "Most people," says Dr. Chernofsky, "have an immune system that can cope with the virus or be supported by drugs. In Mr. Taluli's case, his body's immune system couldn't cope and the virus developed in an uncontrollable manner."
Dr. Chernofsky relates that he has only heard of one famous case of the disease, which afflicted a man in Bangladesh.
The decision to operate was made in consultation with colleague Dr. Shai Luria, also a Hadassah hand surgeon. "We had to come up with a procedure to reduce the possibility of tumors growing out of control again," reports Dr. Luria. "It was also important to work with a team of dermatologists and the operating room staff to ensure that we wouldn't be infected by this highly contagious disease." Dr. Luria adds: "We worked with double shielding and special masks, and we didn't scorch the tumors because this would spread infectious smoke."
The surgical removal of the growths was combined with skin grafts, medication, and a special vaccine administered by Dermatologist Dr. Vered Molho-Pessach. Further treatment will continue, including occupational therapy, so that Mr. Taluli can regain the use of his hands.
A father of six, Mr. Taluli recalls his 10-year-struggle to find a cure. "We tried to find treatment in Egypt," he says, "but there was nothing to do there." He then tried his luck both in Nablus and in East Jerusalem's Makassed Hospital, with no success. "They sent me to Hadassah," he says. "After years in which I sat at home, unable to work because of my limitations and afraid of getting cancer, the experts here at Hadassah were the only ones who gave me hope for recovery. The treatment here is excellent. I very much hope that my previous life is already behind me."