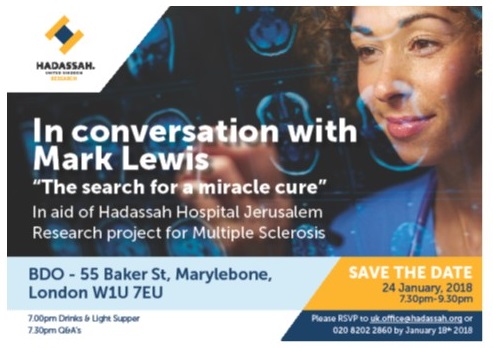 Hadassah United Kingdom invites the public to hear Mark Lewis discuss his search for a miracle cure. Mr. Lewis recently stated that "I honestly feel that the treatment I received is not just life changing, it's life giving."
The event, in aid of the Hadassah Research project for Multiple Sclerosis, will offer drinks and a light supper at 7pm, and will run from 7:30pm to 9:30pm at BDO – 55 Baker Street, Marylebone, London W1U 7EU.
Reservations for the event are requested.
Please RSVP to uk.office@hadassah.org or call 0208202 2860 by January 18th, 2018
Mark Lewis' story
Mark is one of the UK's most successful media lawyers. He was instrumental in bringing the case against News of the World, as a result of the 2011 phone hacking scandal.
Mark was diagnosed with MS when he was 24. By 2016 he was using a wheelchair and mobility scooter and had given up driving.
"I wish I could say to you I never feel sorry for myself but I always feel sorry for myself – I have moments of absolute depression," he says.
"My health had gone rapidly into a downward spiral. I heard about the medical trial in Hadassah. As a lawyer, all my working life I'd done trials, often very high profile, with a philosophy that every case at trial is 50/50. Either you win or you lose.
"This was my most important trial. It was not just about cosmetic appearance but whether I would be able to work. My memory is unaffected, but my body was failing.
"The research at Hadassah is miraculous. I joke that if there is a place where a miracle could happen, then Jerusalem is a suitable candidate.
"Within two hours of my treatment, I could walk again without a stick and the pain that showed the onset of MS when I was 28 disappeared, 28 years, more than half my life, and it just disappeared within two hours of the transfusion.
"I honestly feel that the treatment is not just life changing, but as my wife Mandy says "life giving". It is a new lease of life."
See an interview by the BBC in November 2017