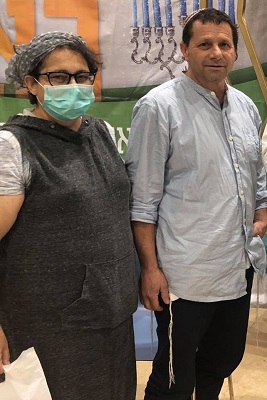 Look closely at the couple before you, who perfectly illustrates the meaning of Tu B'Av, a minor holiday celebrated in Israel on the fifteenth of Av as a holiday of love.
Colleen and Avi Bamberger have five children and two grand-daughters, and hail from Har Hevron. One bright day Colleen collapsed with no prior warning. She did not know she was suffering from end-stage renal disease, and, as her tests proceeded, she was advised that she needed an urgent kidney transplant.
While waiting for her transplant, she received dialysis treatment at Hadassah Hospital Ein Kerem's Ziv Dialysis Unit. Her children fought among themselves for the privilege of donating a kidney to her. But it was her husband, Avi, who proved to be the most suitable donor.
Colleen received her kidney from Avi last November in successful surgery at Hadassah. If they were connected and in love before, now they have a connection by kidney and soul.
Dr. Hadar Merhav, head of the Transplant Department at Hadassah, performed the life-saving surgery, together with Dr. Abed Khalaileh, Dr. Ashraf Imam, and Dr. Samir Abu- Gazala. Dr. Merhav said, "We are privileged to perform small miracles every week, and these are miracles that continue for many years. We experience the true meaning of love, love between family members and love of man to his fellow man. To my joy and that of my partners at Hadassah, Colleen and Avi's surgery was a great success, as you can see. Avi's donation saved a life, and I personally thank him for this."
Colleen, who is now benefitting from the donation of her beloved husband's kidney, expressed her thanks "to the staff at Hadassah, from the first people we met at testing and dialysis, through the surgeons, transplant coordinators, and all the wonderful nurses in the different departments. Each one of them had a part in the donation and our family's miracle."
Her husband, Avi, highly recommends kidney donation. "The experience was not too difficult and not too complicated. I feel well and the knowledge that I saved my wife's life is most important. If you have thoughts of donating, don't deliberate. Go for it, full steam ahead."