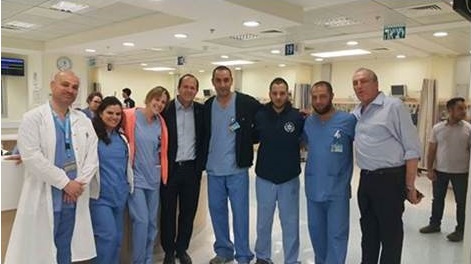 Two Israeli policemen were severely wounded in a shooting terrorist attack yesterday, with bullet wounds to the head. A Palestinian attacker driving a motorcycle opened fire at a group of Israeli Border Police officers at Salah Al-Din Street, near Jerusalem's Damascus Gate. The Palestinian gunman was killed.
One of the officers remains in critical condition, and the other in moderate condition.
The police officers and their families were visited by the National Chief of Police Roni Alscheich and by Jerusalem Mayor Nir Barkat. The Mayor stated that he had come to support the Hadassah team that does holy work day and night.
Read more at http://www.breakingisraelnews.com/63230/jerusalem-shaken-with-terrorism-amidst-days-hell/#mjX6FcEDGbVcJ9EB.97
Photo above: Mayor Barkat ( fourth from left) praises the Hadassah Trauma Team for their "holy work"