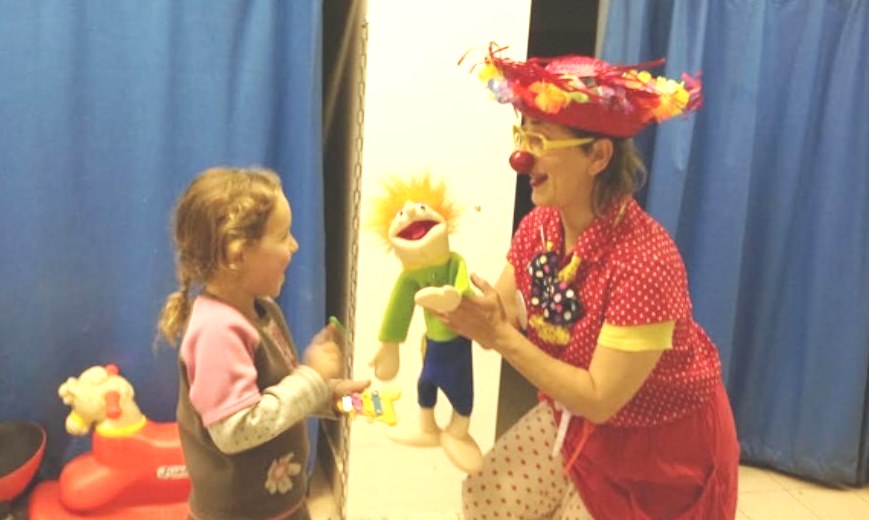 A Different Sort of Pediatric Surgical Sedation–Maya's Story
Lately, I let my intuition lead me around the hospital. I get dressed, put on a red nose, and ask my heart, "Where to? Who first? Who is most in need of a clown right now?"
This time I decided to escort someone to surgery. Nurse Dorrit directs me to Lucy, who is six and a half. She keeps close to Mama and is trembling from anxiety.
I approach her gently, but the girl rudely rejects me. She does not want me to get near her, becoming even more frightened.
I leave. A few minutes later, I return to offer the girl the chance to hear me play my favorite song on the Kalimba. The girl refuses again, but her mother agrees that I should play for her. The mother and I play, sing, and continue to play.
Lucy still does not cooperate. She looks at us from the side with great suspicion.
Suddenly a group of doctors and nurses comes to take Lucy for surgery. The clown got nervous and said: "What? You're going? Where are you going? What about me? I want to come too!!!!!"
I turn to Lucy and beg her: "I want to come with!!!! Can I? Please let me come, because they won't let me and maybe with you I can enter!"
Surprisingly Lucy answers: "Yes. Come with us!"
I follow Lucy enthusiastically. When we reach the operating room door, Lucy stops, burst into hysterical tears, and refuses to come near.
I jump right away, stand next to Lucy, and say aloud: "I'm not going in either. We do not want to!! We will not go inside."
Lucy clings to the wall and I follow her lead.
After about a minute, I bend to her height and whisper to her: "We will not go inside! I am not going inside either. I want to be with you!!!! Everyone is looking at us. Everyone is so scary, right???"
Suddenly Lucy takes my hand in hers and says to me: "Come on. We'll leave."
And we left.
We were very happy to escape together.
I found an empty space in the ward with two chairs and we sat down. No one entered our intimate space. We were alone. The team that saw Lucy's choice cooperates and lets me take all the time that is needed to calm her down and build a channel of communication that would allow more cooperation from Lucy.
We did everything: soap bubbles, breathing, make-up, gluing, folding, and throwing. We had a good time and laughed a lot. Lucy invited me to be the clown at her birthday party.
When certain tests were required, the staff asked for permission from "the jester," who asked for permission from the boss in the room–Lucy.
Whenever Lucy felt intimidated by the crew, we immediately covered our faces and shouted: "We are not here!!! You are scaring us."
It took about half an hour for Lucy to calm down and almost forget the anxiety she felt.
When Lucy had to drink a sedative before surgery, she refused. After I explained that I was thirsty and wanted to drink myself, she trusted my decision and agreed to cooperate.
We went into the operating room like a band. I sang and Lucy relaxed slowly, playing on the kalimba–and falling asleep in the middle of the song.–Nehama (Boola-Boola) Perel