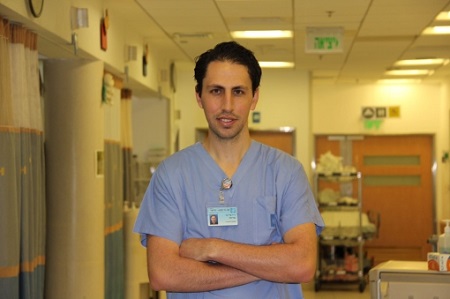 The 20th Maccabiah games are to commence in Israel today, and Jerusalem will host over 100 different sports events. Each event necessitates medical supervision. Doctors from many departments at Hadassah Ein Kerem were recruited for this huge project.
Dr. Gabriel Fraind, an orthopedic specialist from Mexico, is one of the doctors participating in this special operation. In the past Dr. Fraind participated in the Maccabiah as a soccer player for the Mexican team. For him this is a special, coming full circle: "It is a wonderful feeling to be for the second time a part of this amazing sports event" says Dr. Fraind. "This time I am taking care of the competitors and not competing with them, but for me, I feel like I am still a participant, only my team is now called Hadassah."
There are clear guidelines concerning medical supervision of sports events. The Hadassah doctors are there to protect the health of the many athletes who will arrive in Jerusalem from around the world.
The operation is overseen by Dr. David Morgenstern, a Hadassah orthopedist, a specialist in sports medicine. He says: "The Maccabiah Games are a challenge not only for the athletes but also for the medical team responsible for the athletes. The competitions will be going on during July, a hot summer month, and this means that extra precaution is required by the Hadassah's doctors, the first aid teams and the professional medical teams accompanying the competing groups.
We are prepared to give immediate medical service when needed, being backed by the two best hospitals in the city, Hadassah Ein Karem and Hadassah Mt. Scopus."
Prof. Meir Libergall, Director of the Orthopedics department at Hadassah emphasizes that "choosing Hadassah doctors to oversee the biggest, longest sports event in the city is not surprising at all.   Hadassah Hospital was established, and is supported to this day, by Hadassah, the Women's Zionist Organization of America. The natural connection between the enormous Zionist enterprises of Hadassah and the principal Jewish sporting event in the world is obvious."
In light of the scope of the operation, the doctors will get extra backup in a special, always-accessible field medical center, and in Hadassah's Mt. Scopus and Ein Kerem campuses where staff is ready to answer any professional need for the Maccabiah participants.
Photo above: Dr. Gabriel Fraind, an orthopedic specialist from Mexico